Press Releases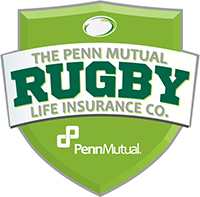 Penn Mutual, United World Sports and NBC Sports Group Announce Landmark Sponsorship Extension of Collegiate Rugby Championship and Varsity Cup Rugby Championship
HORSHAM, Pa. – February 9, 2016 – The Penn Mutual Life Insurance Company, United World Sports and NBC Sports Group have today announced a landmark extension and expansion of their partnership for the Penn Mutual Collegiate Rugby Championship, the largest collegiate rugby event in the world, and The Penn Mutual Varsity Cup, the national collegiate championship of the 15-a-side rugby format. The CRC is played annually at Talen Energy (formerly PPL) Park, in Philadelphia (this year on June 4-5), Pa., while the Varsity Cup final will be held on May 7.
The expansion of the deal, which began in 2014, includes Penn Mutual holding title sponsorship for both events through 2019, a significantly expanded year-long presence across all NBC Sports Group and UWS rugby properties, including dedicated coverage of the women's CRC final; and expanded marketing connections to more than 900 colleges and universities through official equipment and apparel provider, Rhino Rugby.
"Our initial partnership far exceeded our expectations, and we are very excited to be able to work with UWS and NBC Sports to expand and extend our agreement," said Eileen McDonnell, Penn Mutual's Chairman, President & CEO. "We continue to grow our offerings and find new ways to reach the next generation of advisors and clients, and rugby has proven to be an extremely effective platform in reaching our objectives."
"We are very proud to be able to announce this extension with our partners at Penn Mutual and NBC Sports," said Jonathan First, President of United World Sports. "We continue to see rugby grow as a property on all levels across the United States, and this expansion solidifies rugby's continued growth while helping Penn Mutual achieve their goals of engaging with a young and engaged audience on college campuses across the country."
"We remain bullish about rugby as both a collegiate and an Olympic property," said Jon Miller, President, Programming, NBC Sports & NBCSN. "2016 is going to be an exciting year for the sport, highlighted by its return to the Olympics in Rio this August. We're thrilled to showcase the best rugby at the collegiate and international levels this year, and we believe Penn Mutual's commitment to the CRC and Varsity Cup demonstrates rugby's upward trend in domestic popularity in the coming years."
Rugby sevens returns to the Olympic Games in 2016, following an 92-year hiatus, where the United States will defend its gold medal from the 1924 Olympics in Paris. The Penn Mutual Collegiate Rugby Championship is part of a nationwide effort to build American rugby talent in preparation for the Olympics. In the past four years, the CRC has produced 15 players who have gone on to play for the U.S. National teams.
The Penn Mutual CRC, known as the "World's Largest Collegiate Rugby Festival" also includes a collegiate women's rugby bracket, and the National Small College Rugby Organization (NSCRO) national championship, as well as a national high school tournament with both boys and girls teams. Fields for each of those events will be announced in 2016.
The schools in the recently-announced 2016 Men's CRC field will be: Arizona, Arkansas State, Army, Boston College, California, Clemson, Dartmouth, Drexel, Indiana, Kutztown, Life, Michigan, Navy, Notre Dame, Penn State, South Carolina, St. Joe's, Temple, UCLA, Virginia Tech, and winners of four 2016 qualifying events: the Las Vegas Invitational, and the Big Ten, Atlantic Coast, and Southeastern Conference championships. Cal is the three time defending champion in the men's event.
The Penn Mutual Varsity Cup features fourteen of the most recognized and accomplished collegiate men's rugby programs in the country vying for the right to be named the Varsity Cup National Collegiate Champion. The 2016 Penn Mutual Varsity Cup Rugby Championship will commence with four rounds of single-elimination tournament play on April 9, with the quarterfinals contested April 16 and semifinals on April 23. The Penn Mutual Varsity Cup Rugby Championship final will take place on May 7 in Provo, Utah. Tournament seedings and venues are expected to be announced shortly.
The field includes: Army, Arizona State, Arkansas State, BYU, Cal, Utah, UCLA, Navy, Dartmouth, Notre Dame, Texas, Air Force, Central Washington, Clemson, Penn State and Oklahoma.
NBC and NBCSN will once again present The Penn Mutual Varsity Cup and the Penn Mutual CRC, with Varsity Cup being shown on May 7 from 4-6 p.m. ET on NBCSN, and the CRC airing from 2-4 p.m. ET on NBCSN and 4-6PM ET on NBC on both June 4 and 5.
About The Penn Mutual Life Insurance Company
Since its founding in 1847, Penn Mutual has been driven by its noble purpose to create a world of possibilities. At the heart of this purpose is the belief that purchasing life insurance is the most protective, responsible and rewarding action a person can take, and is central to a sound financial plan. The company is committed to helping individuals, families and small businesses unlock life's possibilities through life insurance and annuity solutions. This is accomplished through a national network of more than 5,000 financial professionals, who help clients make great things possible. Penn Mutual supports its field representatives with brokerage services through Hornor, Townsend & Kent, Inc. Registered Investment Advisor and wholly owned subsidiary. Member FINRA/SIPC. Visit Penn Mutual on the Internet at http://www.pennmutual.com.
About United World Sports (UWS)
United World Sports (UWS) is the largest commercial rugby entity in the United States, and the owner and operator of a growing portfolio of dynamic sports, media and apparel brands including, the USA Sevens Rugby international tournament, the largest professional rugby event in North America; the Penn Mutual Collegiate Rugby Championship, the premier college 7s rugby championship; and the Penn Mutual Varsity Cup Championship, the 15s national rugby championship. Through its apparel division, UWS owns the exclusive North and South American license for Rhino Rugby, one of the world's leading rugby apparel and equipment brands. UWS also owns and operates RugbyToday.com, the largest and most widely read media destination dedicated to American rugby. For more information about UWS and its properties, visit: http://www.unitedworldsports.com
Contact

Kim Harmsen
Gregory FCA for Penn Mutual
(610) 228-2134

Keith Bratz
Penn Mutual
(215) 956-7907

Joe Favorito
UWS Public Relations
(201) 746-0005
Jamie Palatini
NBC Sports Group
(203) 356-2791
1415944RM-Feb18