Press Releases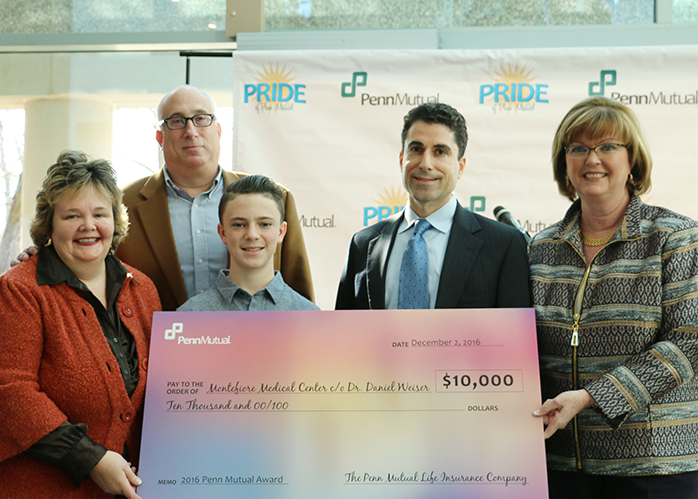 The Penn Mutual Life Insurance Company Donates $10,000 to Doctor Who Helped the Son of One of Its Own Beat Cancer
HORSHAM, Pa. – December 19, 2016 – The Penn Mutual Life Insurance Company (Penn Mutual) presents The Penn Mutual Award annually to one associate who consistently exemplifies living the company's values to the fullest. The Penn Mutual Award winner receives a cash award, and an additional $10,000 to be contributed to the charity of his or her choice.
The company was thrilled to announce that the 2016 Penn Mutual Award winner is Lisa Gottlieb, compliance manager at Penn Mutual. When deciding which charity to donate to, Gottlieb looked to her son Adam for recommendations. Adam, a cancer survivor, didn't hesitate to suggest the doctor that played such an integral role in his fight against cancer back in 2008, Dr. Daniel Weiser, fondly known as Dr. Dan.
On December 2 at Penn Mutual's annual Pride Event, Penn Mutual's CEO Eileen McDonnell along with Lisa, her son, and family presented the $10,000 check to the Montefiore Medical Center and Dr. Dan to further support his research to find a cure for childhood cancers.
Lisa has been with the company since 1982 and is a valued member of our Penn Mutual family. Her work and efforts are recognized by all and we are honored to present her with this year's Penn Mutual Award," said Eileen McDonnell Penn Mutual's chairman and CEO. "We're also thankful for the compassion and attention Dr. Dan has provided for the Gottlieb family and we're happy to provide this donation to help him and his research find cures so that other children and families don't have to endure the battles that cancer present."
Additional Information on the Penn Mutual Award
All full-time home office associates with a minimum three years of service are eligible for the Penn Mutual Award, and the award winner is selected by the Executive Team after three thorough reviews of the nominees.
Above is a photo of the Gottlieb family along with Penn Mutual's Eileen McDonnell presenting a check to Dr. Dan.
About The Penn Mutual Life Insurance Company
Since its founding in 1847, Penn Mutual has been driven by its noble purpose to create a world of possibilities. At the heart of this purpose is the belief that purchasing life insurance is the most protective, responsible and rewarding action a person can take, and is central to a sound financial plan. The company is committed to helping individuals, families and small businesses unlock life's possibilities through life insurance and annuity solutions. This is accomplished through a national network of more than 5,000 financial professionals, who help clients make great things possible. Penn Mutual supports its field representatives with brokerage services through Hornor, Townsend & Kent, Inc. Registered Investment Advisor and wholly owned subsidiary. Member FINRA/SIPC. Visit Penn Mutual on the Internet at http://www.pennmutual.com.
Contact
Kim Harmsen
Gregory FCA
(610) 228-2134
Keith Bratz
Penn Mutual
(215) 956-7907
1664415RM-Dec18