Press Releases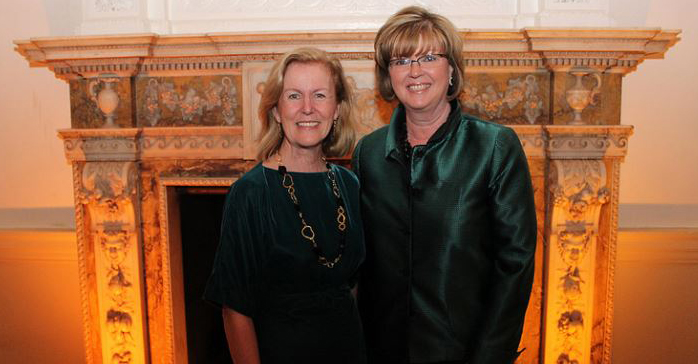 Penn Mutual CEO Receives International Award
HORSHAM, Pa. – March 3, 2017 – Eileen McDonnell, chairman and chief executive officer of The Penn Mutual Life Insurance Company (Penn Mutual), has been recognized at the 2017 Ambassador Awards Ceremony as a recipient of the Taoiseach Award. The distinguished award was presented by the Ambassador of Ireland to the United States, Anne Anderson.
McDonnell has been recognized by the Irish American Business Chamber & Network (IABCN) for being an individual of Irish descent who has exemplified leadership and compassion in her work.
"It is an honor to be recognized by the Chamber and Ambassador Anderson. I feel privileged to be connected to the IABCN, which strengthens business and educational ties between the United States and Ireland. This award is a testament to the courage of my four grandparents who immigrated to America from Ireland," says McDonnell.
The Irish American Business Chamber & Network is a business organization that promotes the interests of its members and the development of economic and educational relationships between the United States, Ireland and Northern Ireland.
About The Penn Mutual Life Insurance Company
Since 1847, Penn Mutual has been driven by our purpose to create a world of possibilities. At the heart of this purpose is the belief that purchasing life insurance is the most protective, responsible and rewarding action a person can take, and is central to a sound financial plan. The company is committed to helping families unlock life's possibilities through life insurance and annuity solutions. This is accomplished through a national network of financial professionals, who help clients make great things possible. Penn Mutual supports its field representatives with brokerage services through Hornor, Townsend & Kent, Inc., Registered Investment Advisor and wholly owned subsidiary. Member FINRA/SIPC. Visit Penn Mutual on the Internet at http://www.pennmutual.com.
Contact
Riana Aldana
Gregory FCA
(610) 228-2127
Keith Bratz
Penn Mutual
(215) 956-7907
1731813PH_Mar19