Press Releases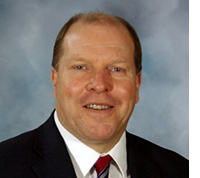 The Penn Mutual Life Insurance Company Announces Managing Partner Appointment at Primary Financial
HORSHAM, Pa. – April 18, 2017 – The Penn Mutual Life Insurance Company (Penn Mutual) is pleased to announce that Edward Barrett joins Penn Mutual as managing partner of Primary Financial, the company's local New Jersey branch.
Barrett's background and talent in the industry fostered the establishment of Primary Financial as Penn Mutual's local footprint in New Jersey. In early 2000, Barrett became a managing partner at New England Financial and was awarded the President's Trophy for recognition of the firm's performance. From there, he went on to develop his own industry brand. In 2013, he served as general agent for National Life Group, under the name of Primary Financial. The success of Primary Financial led Barrett to join forces with Penn Mutual.
"Barrett's passion and dedication for the industry has enabled the firm to offer client services that incite growth to its fullest," says Bill Stevens, vice president, chief agency officer. "His experience and skillset will benefit the agency and we're excited for the new partnership."
A proud graduate of Rutgers University, Barrett has a B.S. in Economics. In addition to life and health licenses, he holds FINRA registrations 7, 63, 65 and 24. Barrett has been the recipient of numerous management awards, including the Lifetime Agency Builder's Award and the Lifetime Leader's Association Award. He resides in Caldwell, New Jersey with his wife and three children.
About The Penn Mutual Life Insurance Company
Since 1847, Penn Mutual has been driven by our purpose to create a world of possibilities. At the heart of this purpose is the belief that purchasing life insurance is the most protective, responsible and rewarding action a person can take, and is central to a sound financial plan. The company is committed to helping families unlock life's possibilities through life insurance and annuity solutions. This is accomplished through a national network of financial professionals, who help clients make great things possible. Penn Mutual supports its field representatives with brokerage services through Hornor, Townsend & Kent, Inc., Registered Investment Advisor and wholly owned subsidiary. Member FINRA/SIPC. Visit Penn Mutual on the Internet at http://www.pennmutual.com.
Contact
Riana Aldana
Gregory FCA
(610) 228-2127
Keith Bratz
Penn Mutual
(215) 956-7907
1756454RM-APR19