Press Releases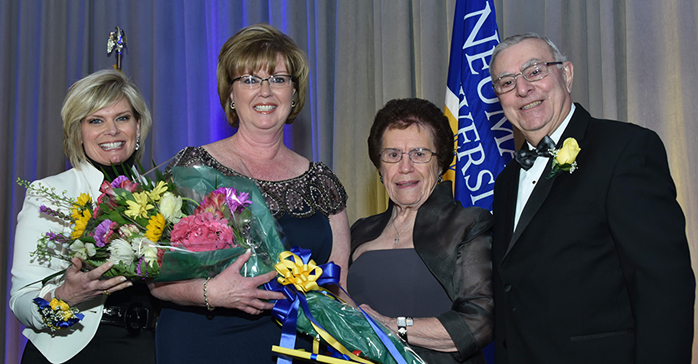 Penn Mutual CEO Receives Presidential Humanitarian Award
HORSHAM, Pa. – April 18, 2017 – Eileen McDonnell, chairman and chief executive officer of The Penn Mutual Life Insurance Company (Penn Mutual), has been distinguished as a recipient of the 2017 Neumann University Presidential Humanitarian Award.
For the last 15 years, the Humanitarian Award has been given to individuals whose life reflects a commitment to serve humanity and empower the underserved in society. In addition, recipients exemplify a devotion to religious and family ideals, dedication to philanthropy and giving back to the community, and have demonstrated value for education and a positive human intellect.
"It is humbling to be presented with this prominent award from Neumann University, an establishment with core values like integrity, service and excellence that we at Penn Mutual, and I personally, identify with. I'm honored to be recognized with this award, and strive to continue to live up to what it stands for, " says McDonnell.
The Neumann University Presidential Humanitarian Award was established in 2002 in honor of Dr. Rosalie M. and Anthony D. Mirenda, and is presented at the Annual Scholarship Gala, Neumann University's premier fundraising event to support scholarships for students.
About The Penn Mutual Life Insurance Company
Since 1847, Penn Mutual has been driven by our purpose to create a world of possibilities. At the heart of this purpose is the belief that purchasing life insurance is the most protective, responsible and rewarding action a person can take, and is central to a sound financial plan. The company is committed to helping families unlock life's possibilities through life insurance and annuity solutions. This is accomplished through a national network of financial professionals, who help clients make great things possible. Penn Mutual supports its field representatives with brokerage services through Hornor, Townsend & Kent, Inc., Registered Investment Advisor and wholly owned subsidiary. Member FINRA/SIPC. Visit Penn Mutual on the Internet at http://www.pennmutual.com.
Contact
Haley Rosa
Gregory FCA
(610) 228-2805
Keith Bratz
Penn Mutual
(215) 956-7907
1751248RM-Apr19