Press Releases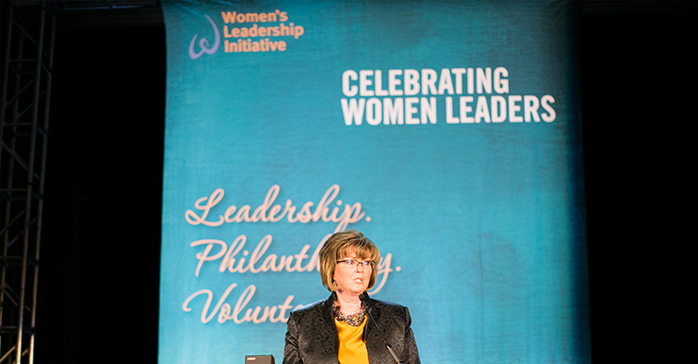 Eileen McDonnell, Penn Mutual's CEO, Presented with United Way 2017 Women's Leadership Initiative Award
HORSHAM, Pa. – April 18, 2017 – Eileen McDonnell, chairman and chief executive officer of The Penn Mutual Life Insurance Company (Penn Mutual), was honored as the recipient of the 2017 United Way Women's Leadership Initiative Award at the organization's gala held at the Crystal Tea Room in Philadelphia, PA.
McDonnell was recognized for the award based on her outstanding leadership credentials at Penn Mutual and within the community. Serving on several corporate boards, McDonnell also commits time as a member of the Advisory Board of Vision 2020, Drexel University's LeBow College of Business Center for Corporate Governance Advisory Board, and more.
United Way, which began the Women's Leadership Initiative over 10 years ago, aims to connect a network of women who are dedicated philanthropists, volunteers and professional mentors. The award has been given out annually since 2004, and recognizes female leaders who encompass the values of the United Way, and epitomize morals such as giving back, empowering young adults and children, and making a difference in their local community.
The Gala supports such programs as Girls Today, Leaders Tomorrow, introduced by the Women's Leadership Initiative to empower the next generation of female leaders, by training and mentoring underserved women and girls in United Way's Southeastern Pennsylvania region.
As this year's honoree, McDonnell now joins an impressive list of previous female leader honorees, including Charisse R. Lillie, Jamie Wintz McKeon, Dr. Lorina Marshall-Blake, and Karen Dougherty Buchholz.
"It's an honor to be recognized by the United Way, and to join the ranks beside the other award recipients from years past. I wholeheartedly align my own philosophies and values with that of the United Way, and applaud them on their efforts in our local community. As a collective group, I and the United Way look forward to helping the girls of our region achieve the promise they represent to the future of Greater Philadelphia," said McDonnell.
About The Penn Mutual Life Insurance Company
Since 1847, Penn Mutual has been driven by our purpose to create a world of possibilities. At the heart of this purpose is the belief that purchasing life insurance is the most protective, responsible and rewarding action a person can take, and is central to a sound financial plan. The company is committed to helping families unlock life's possibilities through life insurance and annuity solutions. This is accomplished through a national network of financial professionals, who help clients make great things possible. Penn Mutual supports its field representatives with brokerage services through Hornor, Townsend & Kent, Inc., Registered Investment Advisor and wholly owned subsidiary. Member FINRA/SIPC. Visit Penn Mutual on the Internet at http://www.pennmutual.com.
Contact
Karyn Piechule
Gregory FCA
(610) 228-2107
Keith Bratz
Penn Mutual
(215) 956-7907
1747298JV_Mar19