Press Releases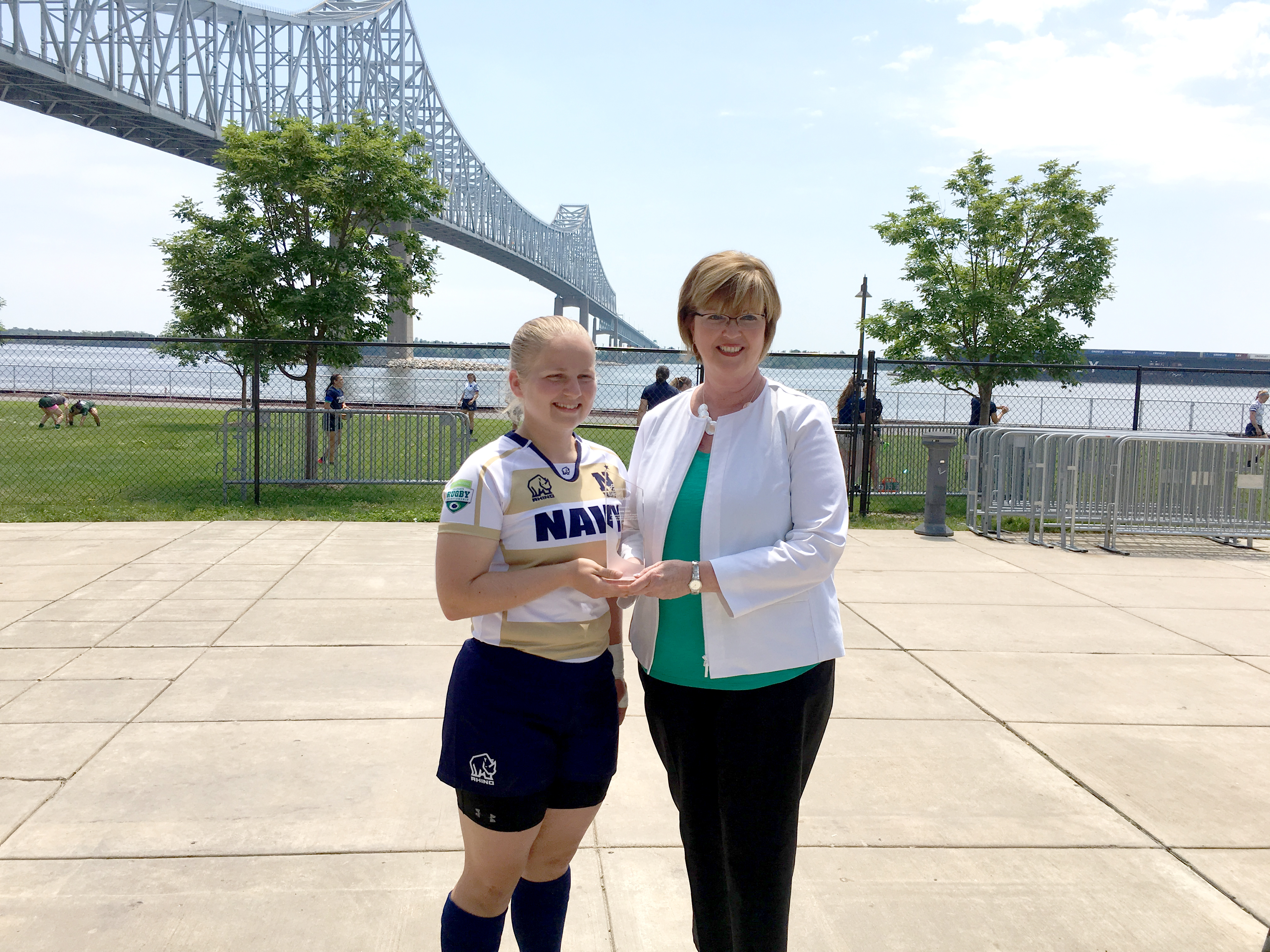 The Penn Mutual Life Insurance Company Recognizes 2017 Life of Significance Award Winner at Collegiate Rugby Championship
HORSHAM, Pa. – June 09, 2017 – During the 2017 Penn Mutual Collegiate Rugby Championship (CRC), which took place in Chester, PA on June 3-4, The Penn Mutual Life Insurance Company presented rising senior Jenna Jones of the Naval Academy with the third annual Life of Significance Award.
Jones was nominated for the award by Naval Academy Women's Rugby Head Coach Daniel Burr and Commander Marisa McClure, the Officer Representative of the Women's Rugby program, for her contributions to the women's rugby program and her community.
In addition to being the Club President and leader of the team, Jones volunteered her time with the Girl Scout "Try It" rugby clinic that took place at the Navy Legacy 7s Tournament. She became involved with a number of community organizations at a young age, such as the Boys and Girls Club, Toys for Tots, and a local soup kitchen. Today, Jones commits time to causes such as the Maryland Special Olympics and Girls on the Run.
"She has dedicated herself to a life of service and leadership. Jenna's integrity and selfless devotion to duty represent the sport of rugby and its rich heritage perfectly," said McClure.
The Life of Significance Award, which had 18 finalists in contention this year, is given annually to a collegiate rugby player participating in the CRC. The recipient exemplifies Penn Mutual's values of integrity, commitment and respect, and has made substantial contributions to society and their community.
"It's clear that Jenna is a natural-born leader, and we are so proud to have her included in the Penn Mutual rugby community as she joins the elite group of honorees before her," said Eileen McDonnell, Chairman and CEO of Penn Mutual. "Jenna's values, along with her passion for education and awareness, go hand-in-hand with her standout leadership skills. We wish her the best and know that she is destined for great things ahead."
A $5,000 contribution will be made to Girls on the Run Annapolis, the charity of Jones' choice, a non-profit organization that teaches young girls about life skills, confidence-building techniques and social and physical development through a running-based curriculum. The Naval Academy's rugby team will also receive $1,000 in Rhino Rugby gear to go toward equipment needs.
About The Penn Mutual Life Insurance Company
Since 1847, Penn Mutual has been driven by our purpose to create a world of possibilities. At the heart of this purpose is the belief that purchasing life insurance is the most protective, responsible and rewarding action a person can take, and is central to a sound financial plan. The company is committed to helping families unlock life's possibilities through life insurance and annuity solutions. This is accomplished through a national network of financial professionals, who help clients make great things possible. Penn Mutual supports its field representatives with brokerage services through Hornor, Townsend & Kent, Inc., Registered Investment Advisor and wholly owned subsidiary. Member FINRA/SIPC. Visit Penn Mutual on the Internet at http://www.pennmutual.com/.
Contact

Karyn Piechule
Gregory FCA
(610) 228-2107
Keith Bratz
Penn Mutual
(215) 956-7907
1813868JV_Jun19