Press Releases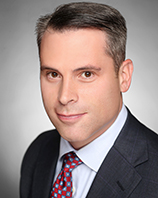 The Penn Mutual Life Insurance Company Announces Onboarding of Adam Bass as Newest Managing Partner
HORSHAM, Pa. – August 18, 2017 – The Penn Mutual Life Insurance Company (Penn Mutual) is pleased to announce the appointment of Adam Bass as the newest managing partner of LakeShore Wealth Strategies, Penn Mutual's Chicago-based agency.
Throughout his 14-year career, Bass has held notable positions at previous companies, and earned several business and industry awards. Prior to joining Penn Mutual, Bass was managing director at Lenox Advisors, in which he thrived in his role of promoting growth for their Chicago office. Bass also previously held the positions of chief operating officer and executive vice president at First Financial Group.
"We are confident in Adam's ability to excel in this new role, as he not only has experience offering clients strategies for short and long-term financial goals, but his previous roles prove he has the management skills needed to excel as a leader," says Bill Stevens, vice president, career agency system. "We look forward to our future with Adam as our newest managing partner."
A graduate of the University of Wisconsin-Madison, Bass has a B.A. in Political Science. Furthering his education, Bass went on to obtain a Juris Doctor degree from the University of Miami School of Law. Bass currently resides in Chicago with his wife and son.
About The Penn Mutual Life Insurance Company
Since 1847, Penn Mutual has been driven by our purpose to create a world of possibilities. At the heart of this purpose is the belief that purchasing life insurance is the most protective, responsible and rewarding action a person can take, and is central to a sound financial plan. The company is committed to helping families unlock life's possibilities through life insurance and annuity solutions. This is accomplished through a national network of financial professionals, who help clients make great things possible. Penn Mutual supports its field representatives with brokerage services through Hornor, Townsend & Kent, Inc., Registered Investment Advisor and wholly owned subsidiary. Member FINRA/SIPC. Visit Penn Mutual on the Internet at http://www.pennmutual.com/.
Contact
Kat Weber
Gregory FCA
215-297-3607
Keith Bratz
Penn Mutual
(215) 956-7907
1870006PH_Aug19