Press Releases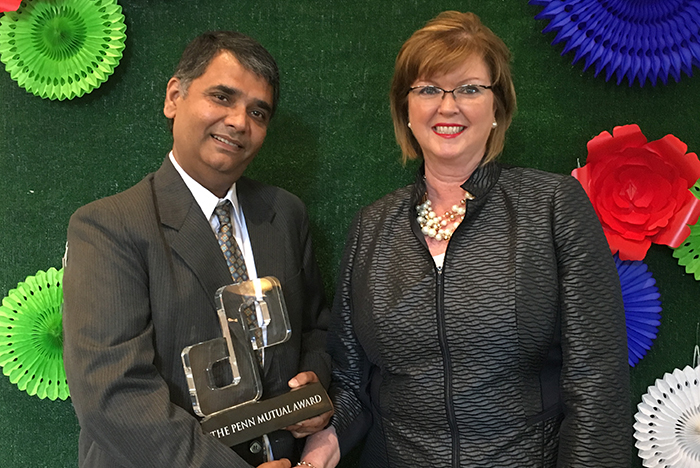 The Penn Mutual Life Insurance Company Honors Harsh Tripathi as Winner of the 2017 Penn Mutual Award
HORSHAM, Pa. – November 13, 2017 –The Penn Mutual Life Insurance Company (Penn Mutual) is pleased to announce Harsh Tripathi, Director, Data Architecture & Management, as recipient of the 2017 Penn Mutual Award. The Penn Mutual Award is the highest honor any Penn Mutual associate can receive, and is given annually to an individual who consistently exemplifies Penn Mutual's values and guiding principles.
"For a decade and a half, Harsh has been a standout associate and leader, who empowers others to do the same. He possesses a wonderful combination of inspiration and innovation, which has been recognized by his peers across the company. We are thrilled to honor Harsh with this award," said Eileen McDonnell, Penn Mutual Chairman & CEO, who presented Tripathi with his award at the company's annual Pride event.
Tripathi began his career with Penn Mutual in 2003 in the company's technology area, and has since progressed his career from developer to director. In winning this award, Tripathi receives $10,000, along with an additional $10,000 contributed to the charity of his choice, Sankara Eye Foundation, USA. Penn Mutual will also contribute $1,000 to the charity of his nominators' choice, Children's Hospital of Philadelphia Cancer Center. Tripathi resides in Fountainville, PA, with his wife and two children.
About The Penn Mutual Life Insurance Company
Since 1847, Penn Mutual has been committed to helping people live life with confidence. At the heart of this purpose is the belief that life insurance is central to a sound financial plan. Through our network of trusted advisers, we are dedicated to helping individuals, families and businesses achieve their dreams. Penn Mutual supports its advisers with retirement and investment services through Hornor, Townsend & Kent, Inc. Registered Investment Advisor and wholly owned subsidiary. Member FINRA/SIPC. We are proud to work together in a values-driven and relationship-based culture. Visit Penn Mutual at www.pennmutual.com.
Contact
Kat Weber
Gregory FCA
(215) 297-3607
Keith Bratz
Penn Mutual
(215) 956-7907
1933676PH_Oct19