Press Releases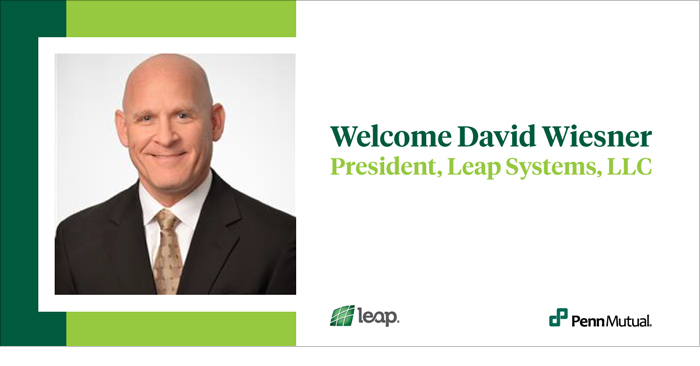 The Penn Mutual Life Insurance Company Introduces David Wiesner as New President of Leap Systems, LLC
HORSHAM, Pa. – August 13, 2018 – The Penn Mutual Life Insurance Company (Penn Mutual) is pleased to introduce David Wiesner as the new president of Leap Systems, LLC (Leap). As a leading provider of innovative financial systems for financial professionals, Leap welcomes Wiesner's deep history in business relationship building, innovation, and technology expertise. Wiesner replaces Ande Frazier who is leading a new Penn Mutual subsidiary focused on women consumers.
Wiesner joins Leap from eMoney Advisor, where he served as vice president. While at eMoney, he directed a major financial planning technology system for a large mutual life insurer.
In his new role, David will be responsible for leading Leap in pursuit of its mission, including leadership of the organization, and continuing to offer innovative financial planning tools.
"David's experience creating valued solutions that benefit advisers, his thorough understanding of financial technology, and his industry expertise will help Leap to continue to grow," says David O'Malley, president and chief operating officer at Penn Mutual. "We are confident that with David's leadership and professional experience, he will be able to further expand Leap's mission to help advisers in their work with clients."
Of his role, Wiesner explains how his philosophies and career goals aligned with Leap and Penn Mutual's. "The foundation of my experience is in technology leadership and my passion is relationship building. With those in mind, I'm excited to begin working with the Leap community. Together we will strive to implement innovative ways to better support advisers and the clients they serve."
About The Penn Mutual Life Insurance Company
Since 1847, Penn Mutual has been committed to helping people live life with confidence. At the heart of this purpose is the belief that life insurance is central to a sound financial plan. Through our network of trusted advisers, we are dedicated to helping individuals, families and businesses achieve their dreams. Penn Mutual supports its advisers with retirement and investment services through Hornor, Townsend & Kent, Inc. Registered Investment Advisor and wholly owned subsidiary. Member FINRA/SIPC. We are proud to work together in a values-driven and relationship-based culture. Visit Penn Mutual at www.pennmutual.com.
About Leap Systems, LLC
Leap Systems, LLC, an affiliate of Penn Mutual, is a leading provider of innovative financial systems for advisors throughout the United States and Canada. Since its founding in 1980, Leap has been recognized by many of the world's top financial institutions as a leader and trusted resource for achieving superior results and delivering an end-to-end financial solution.
Contact
Alexandra Spurgeon
Gregory FCA
(610) 228-2140
Lauren Kane
Penn Mutual
(215) 956-8760
2208846DR_AUG20