Press Releases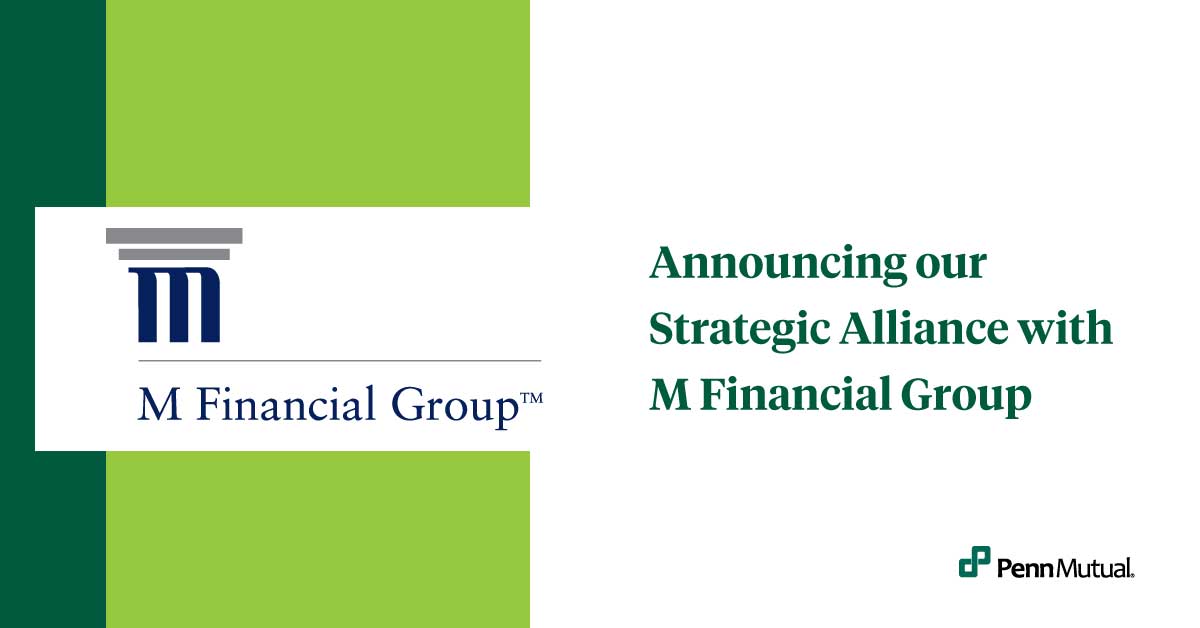 Penn Mutual Life Insurance Company And M Financial Group Announce New Strategic Relationship
HORSHAM, Pa. – September 18, 2018 – The Penn Mutual Life Insurance Company (Penn Mutual) and M Financial Group (M Financial), a collaborative network of independent firms headquartered in Portland, Oregon, are pleased to announce a new specialty carrier relationship that will make Penn Mutual the primary provider of whole life insurance for M Financial.
M Financial is one of the largest independent financial services design and distribution networks serving the affluent and corporate markets through an exclusive network of more than 145 member firms.
"Penn Mutual is excited to partner with an organization that shares our philosophy that life insurance is a foundational element of a successful financial plan," said David O'Malley, president and chief operating officer at Penn Mutual. "M Financial has a tremendous track record of possessing advisers that solve client objectives."
While Penn Mutual has working relationships with other industry distribution leaders, the new partnership enhances Penn Mutual's access to the affluent market for life insurance. At the same time, Penn Mutual's inclusion will bolster M Financial's existing financial services portfolio.
"We've seen a growing demand from producers to offer whole life insurance policies because clients want the living and death benefit guarantees it provides," said Andy Graves, vice president, Private Client and Benefit Solutions, and president, M Benefit Solutions, at M Financial. "This strategic distribution partnership with Penn Mutual gives our financial services professionals access to best-in-class whole life solutions that our clients are seeking in today's environment."
About The Penn Mutual Life Insurance Company
Since 1847, Penn Mutual has been committed to helping people live life with confidence. At the heart of this purpose is the belief that life insurance is central to a sound financial plan. Through our network of trusted advisers, we are dedicated to helping individuals, families and businesses achieve their dreams. Penn Mutual supports its advisers with retirement and investment services through Hornor, Townsend & Kent, Inc. Registered Investment Advisor and wholly owned subsidiary. Member FINRA/SIPC. We are proud to work together in a values-driven and relationship-based culture. Visit Penn Mutual at www.pennmutual.com.
About M Financial Group
With more than 145 Member Firms in 36 states, and the United Kingdom, M Financial Group is one of the nation's leading financial services design and distribution companies. Since 1978, M Financial's network of independent insurance, investment, and executive benefit firms has served the needs of ultra-affluent individuals, corporate executives, successful entrepreneurs, and Fortune 1000 companies. For more information about M Financial Group, please visit www.mfin.com.
Contact
Darby Rowe
Gregory FCA
(610) 228-2148
Lauren Kane
Penn Mutual
(215) 956-8760
Shaunmarie Gutbezahl
M Financial Group
503-414-7689
2214297PH_Aug20