Press Releases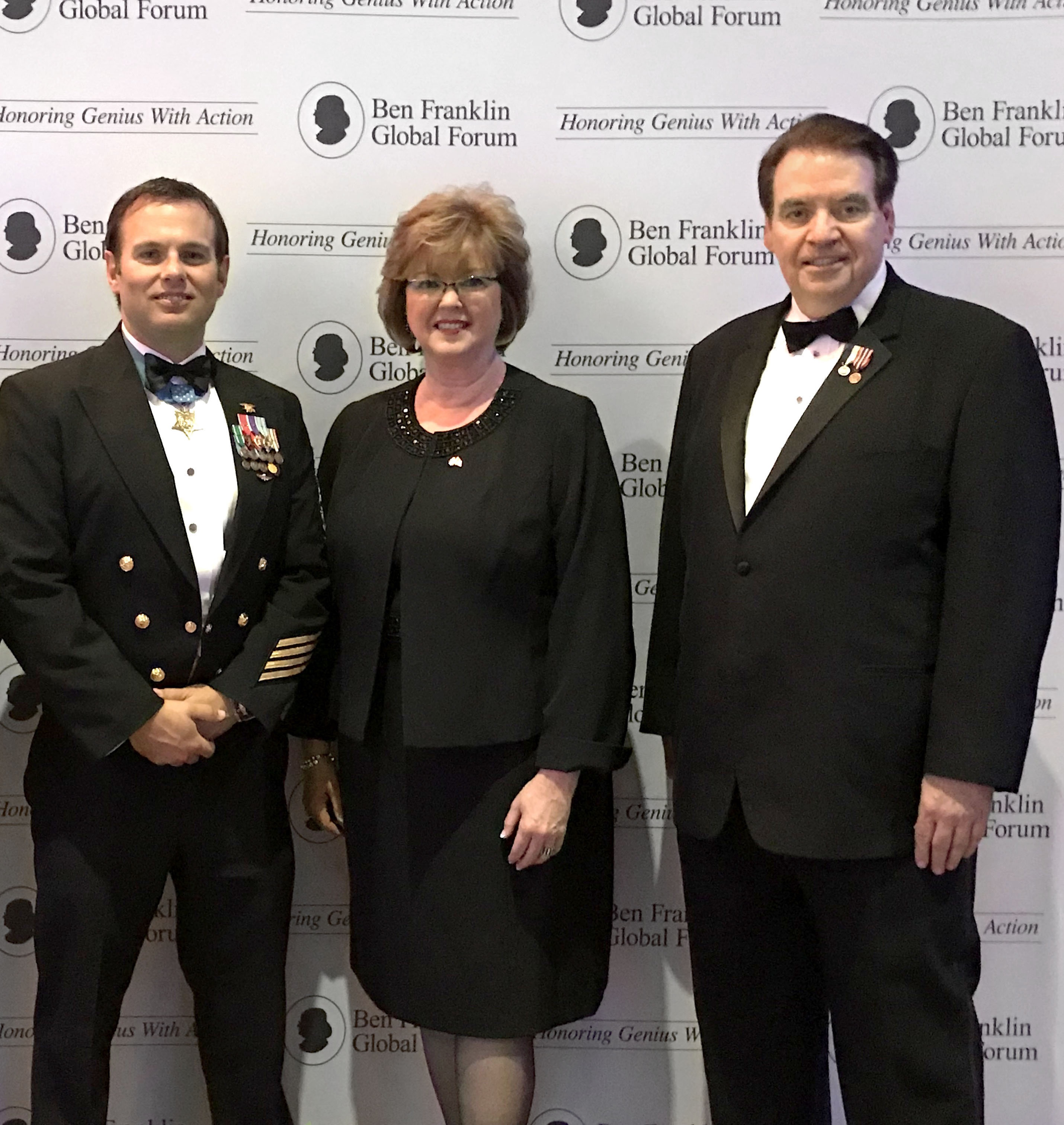 The Penn Mutual Life Insurance Company's CEO Honored With Distinguished Civilian Award
Eileen McDonnell receives prominent award based on contributions to industry and military community.
From left to right: Chief Special Warfare Operator (SEAL) Edward C. Byers Jr., United States Navy, Eileen McDonnell, Chairman and CEO of Penn Mutual, Bob Daniels, Chairman of Ben Franklin Global Forum
HORSHAM, Pa. – December 10, 2018 – The Penn Mutual Life Insurance Company (Penn Mutual) is pleased to announce that Eileen McDonnell, chairman and CEO of Penn Mutual, was recently named as the recipient of the esteemed Admiral Charles LeMoyne Distinguished Civilian Award for 2018. McDonnell and her accomplishments were spotlighted during the Ben Franklin Global Forum's Annual Army Navy Gala on Dec. 7.
Established in 1997, the Admiral Charles LeMoyne Awards are named in honor of the deputy commander of U.S. Special Operations Command, and started as a way to recognize high school students with standout leadership qualities. The award has since evolved to honor a distinguished sailor and soldier annually, and a civilian when warranted for significant contributions to the nation. McDonnell is one of four recipients to ever receive the Distinguished Civilian Award.
McDonnell is recognized for her noteworthy achievements with The American College Penn Mutual Center for Veterans Affairs. The Center is highly respected for training and educating military veterans and their spouses who are interested in entering the financial services industry. Through McDonnell and Penn Mutual's long-term commitment to the Center, they have awarded $2.4 million in scholarships to 450 recipients.
"I'm truly humbled to receive such an esteemed award. It's not often that civilians are recognized with this honor, and I am proud to be among those who have made an impact in the military community," McDonnell stated. "We have an unwavering commitment to helping military families who risk their lives to keep our nation safe. Establishing The American College Penn Mutual Center for Veterans Affairs, and offering scholarships to veterans and their spouses to further their education in the financial profession, is just one way we can give back and thank service members and their families for all they do."
Regarding McDonnell's esteemed inclusion as one of the Distinguished Civilian honorees, Lieutenant General Raymond Palumbo, board member of the Ben Franklin Global Forum, praised her dedication to military spouses and support of them to succeed alongside their military partners. "I respect that Eileen advocates for the inclusion of spouses in the full scholarship program. Our spouses are often unsung heroes and it takes people like Eileen to help address the broader need out there with our spouses and families."
About The Penn Mutual Life Insurance Company
Since 1847, Penn Mutual has been committed to helping people live life with confidence. At the heart of this purpose is the belief that life insurance is central to a sound financial plan. Through our network of trusted advisers, we are dedicated to helping individuals, families and businesses achieve their dreams. Penn Mutual supports its advisers with retirement and investment services through Hornor, Townsend & Kent, Inc. Registered Investment Advisor and wholly owned subsidiary. Member FINRA/SIPC. We are proud to work together in a values-driven and relationship-based culture. Visit Penn Mutual at www.pennmutual.com.
Contact

Haley Rosa
Gregory FCA
(610) 228-2805

Lauren Kane
Penn Mutual
(215) 956-8760
2336877JV_Dec20