Press Releases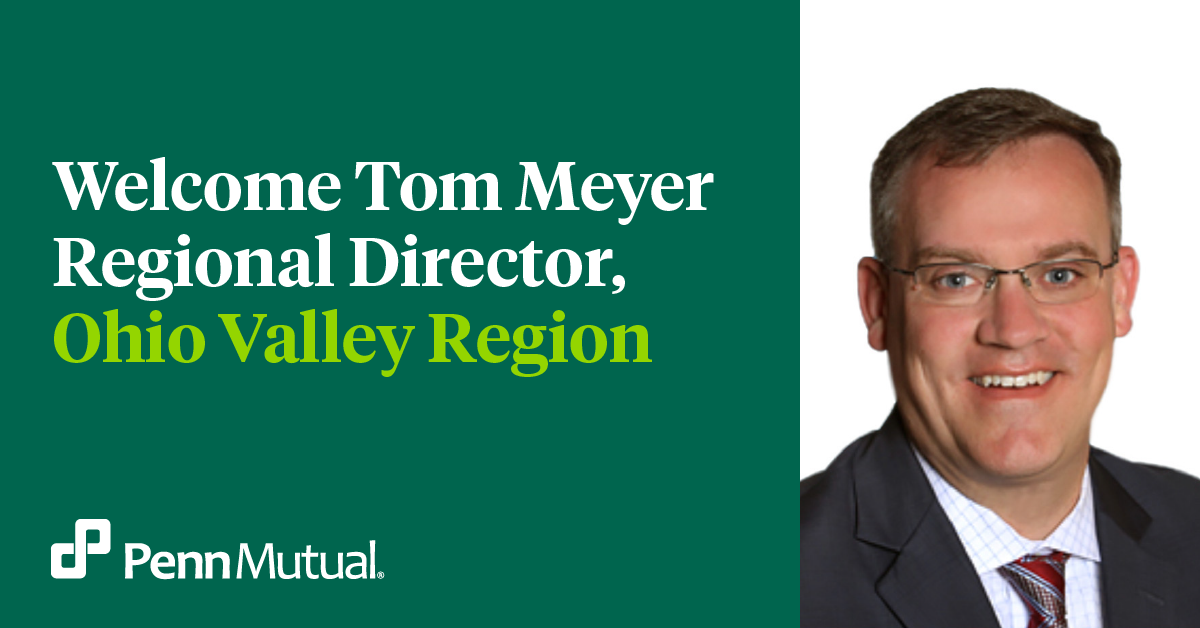 The Penn Mutual Life Insurance Company Introduces New Regional Director of the Ohio Valley Region
Tom Meyer named new Regional Director following Bill Gearhart's retirement.
HORSHAM, Pa. – January 24, 2019 – The Penn Mutual Life Insurance Company(Penn Mutual) is pleased to announce the recent hire of Tom Meyer as the Regional Director of its Ohio Valley Regional office. Meyer replaces Bill Gearhart who retired on January 15, 2019 after 27 years of service. Meyer brings to Penn Mutual nearly 20 years of experience in the financial services industry, having most recently been responsible for developing and managing a sales staff for a large life insurance company.
In his new role at Penn Mutual, Meyer will be responsible for managing and overseeing sales and marketing productivity and results within the Ohio Valley Region. His experience working with life insurance products and professionals will be instrumental in helping Penn Mutual grow its regional and national footprint in 2019 and beyond.
"We're excited to start the New Year off by welcoming Tom to the Penn Mutual family," said Mike Dunne, AVP Independence Financial Network at Penn Mutual. "I have no doubt that his industry experience along with his expertise in developing strong working relationships with life insurance advisers will help grow our Ohio Valley Region and enhance the overall experiences of our advisers and clients."
He is an industry veteran with extensive experience building, motivating and retaining high-performance teams. "Providing unparalleled customer experiences is essential and that begins with building strong sales teams that create value for those who serve," explained Meyer. "I'm thrilled to join Penn Mutual and know that together we can help our clients achieve financial success."
Tom received his Bachelors of Business Administration in Finance from Bowling Green State University.
About The Penn Mutual Life Insurance Company
Since 1847, Penn Mutual has been committed to helping people live life with confidence. At the heart of this purpose is the belief that life insurance is central to a sound financial plan. Through our network of trusted advisers, we are dedicated to helping individuals, families and businesses achieve their dreams. Penn Mutual supports its advisers with retirement and investment services through Hornor, Townsend & Kent, Inc. Registered Investment Advisor and wholly owned subsidiary. Member FINRA/SIPC. We are proud to work together in a values-driven and relationship-based culture. Visit Penn Mutual at www.pennmutual.com.
Contact

Alexandra Boyle
Gregory FCA
610-228-2140
Lauren Kane
Penn Mutual
(215) 956-8760
2393103RM-Jan21