Press Releases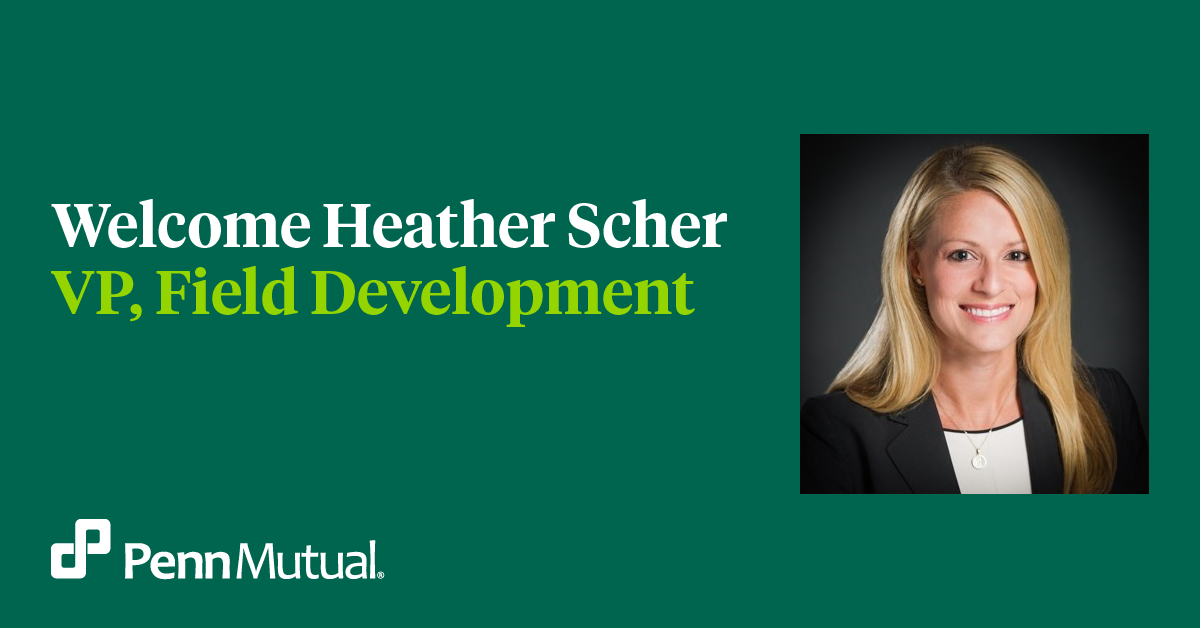 The Penn Mutual Life Insurance Company Introduces Heather J. Scher as VP of Field Development
Scher's role to drive the company's bold adviser growth goals
HORSHAM, Pa. – March 15, 2019 – The Penn Mutual Life Insurance Company (Penn Mutual) is pleased to announce Heather J. Scher has joined the organization as vice president of field development. Scher will lead strategic efforts to support the company's aspirations of enhanced adviser productivity, increased retention, and field talent and management development.
Scher brings 12 years of sales and industry experience to Penn Mutual, with an extensive history of success in distribution and firm-level leadership roles, including practice development, marketing, and recruiting, while impacting profitability by driving growth and retention. She most recently led the implementation of Advisor Teaming and Practice Transition Planning at the former MetLife Premier Client Group and MassMutual Financial Advisors.
This new leadership role strongly complements Penn Mutual's commitment to innovation, in providing comprehensive adviser support, tools and resources to drive growth. Over the past year, with a focus on enhancing the client experience, Penn Mutual has implemented unparalleled technology—its Accelerated Client Experience (ACE)—which is a testament to the company's investment in its field offices and adviser support. ACE provides a simplified and efficient life insurance process that is entirely digital, and has a 93 percent placement rate for new business when approved through automated underwriting, compared to 73 percent placement rate through the traditional underwriting process.
Scher's addition supports the company's values-driven and relationship-based approach to serving its advisers and policyholders. She will lead efforts to implement programs, align resources and develop the tools necessary to drive business development, while working with Penn Mutual distribution, field leaders, advisers and advisory teams to carve a strategic path with well-defined objectives and measures.
"We have bold objectives for adviser growth, retention and recruiting, and Heather's experience and innate understandingof diverse aspects of our business aligns perfectly with the goals we are trying to achieve," says Dave O'Malley, president and COO of Penn Mutual. "The foundational pillars of our business are built on personalized experience and offering flexibility so advisers can feel confident building their businesses with Penn Mutual."
As a Fortune 1,000 company with $150 billion of life insurance in force and over 80 years of being rated A or better by A.M. Best, Penn Mutual strives to move not only the company, but the industry forward.
"I was attracted to Penn Mutual's thought leadership, commitment to innovation and desire to make a difference in this industry," explains Scher."In partnership with distribution and field leadership, I look forward to helping our advisers provide solutions to client's increasingly complex needs, achieve their growth goals, and secure the legacy and longevity of their practices."
About The Penn Mutual Life Insurance Company
Since 1847, Penn Mutual has been committed to helping people live life with confidence. At the heart of this purpose is the belief that life insurance is central to a sound financial plan. Through our network of trusted advisers, we are dedicated to helping individuals, families and businesses achieve their dreams. Penn Mutual supports its advisers with retirement and investment services through Hornor, Townsend & Kent, LLC. Registered Investment Advisor and wholly owned subsidiary. Member FINRA/SIPC. We are proud to work together in a values-driven and relationship-based culture. Visit Penn Mutual at www.pennmutual.com.
Contact
Haley Rosa
Gregory FCA
(610) 228-2805

Lauren Kane
Penn Mutual
(215) 956-8760
2456251RM-Mar21