Press Releases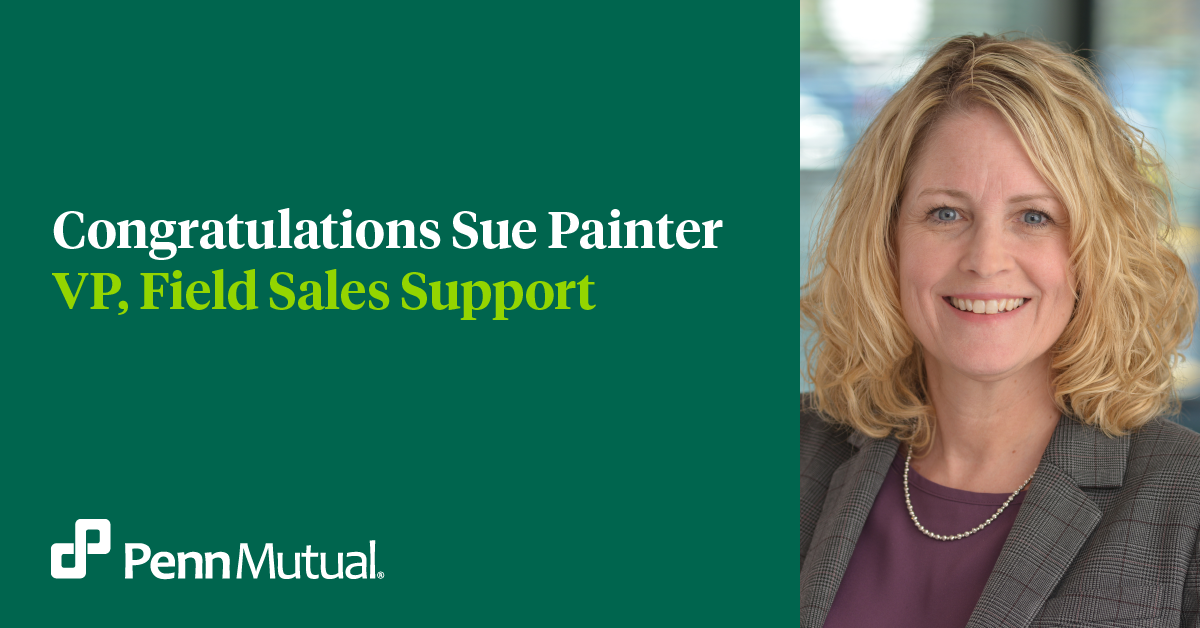 The Penn Mutual Life Insurance Company Promotes Sue Painter to VP of Field Sales Support
New role developed as Painter will assist in company's innovative retention and recruitment initiatives
HORSHAM, Pa. – March 20, 2019 – Amid bold objectives geared toward adviser retention and recruitment, The Penn Mutual Life Insurance Company (Penn Mutual) has promoted Sue Painter to vice president of field sales support. With a long-term plan that will roll out over the next six years under Painter's guidance, the company will seek to bolster adviser retention through valuable initiatives and consistent, ongoing developmental programs. In her new role, Painter will be responsible for supervising the Life and Annuity Sales Desks and Product Concept Wholesalers for Life and Annuities, as well as leading Advanced Markets and Leap Systems.
Going further than traditional training and education initiatives, Painter and her team will implement true end-to-end solutions for Penn Mutual's career and independent advisers and field leaders. This focus will provide an innovative, customized and strategy-driven approach that elevates Penn Mutual's advisers with personalized and ongoing support.
Painter and her team have already planned a number of programs for the coming months aimed at bolstering advisers and field leaders with long-term business building strategies, such as social media engagement sessions and new technology platform training to help them effectively reach clients and prospects. Other upcoming workshops will help leaders and advisers increase sales and gain a better understanding of life insurance sales concepts. Penn Mutual will also offer educational initiatives focusing on niche markets, such as families with special needs and business owners. These initiatives will offer advisers continuous training around these unique audiences and industry trends, so they may consistently offer superior service to their clients.
"We have robust business goals when it comes to assisting our field leaders and advisers. It's no secret that retention and recruitment are hurdles everyone in this industry faces," explains Dave O'Malley, president and COO at Penn Mutual. "We have made a deliberate change with these initiatives, and are on track to create a more strategy-driven approach that will ultimately enhance our ability to find and retain top-tier talent. It's only through the support and dedication of professionals like Sue that we can continually improve and move this strategy forward."
Painter joined Penn Mutual in 2012 and most recently held the post of AVP, life new business, contract and licensing and adviser compensation. With over 25 years of industry experience, Painter will bring her impressive foundational skillset and experience within sales, business development, adviser and customer service, and project management to this new role.
"Helping advisers is my passion, and through this role and our new initiatives, we are enhancing the industry-leading support to our advisers. By facilitating and continually developing programs to fit adviser needs, we can ensure they have the vital support needed to best serve their clients," says Painter.
About The Penn Mutual Life Insurance Company
Since 1847, Penn Mutual has been committed to helping people live life with confidence. At the heart of this purpose is the belief that life insurance is central to a sound financial plan. Through our network of trusted advisers, we are dedicated to helping individuals, families and businesses achieve their dreams. Penn Mutual supports its advisers with retirement and investment services through Hornor, Townsend & Kent, LLC. Registered Investment Advisor and wholly owned subsidiary. Member FINRA/SIPC. We are proud to work together in a values-driven and relationship-based culture. Visit Penn Mutual at www.pennmutual.com.
Contact
Karyn Piechule
Gregory FCA
(610) 228-2107

Lauren Kane
Penn Mutual
(215) 956-8760
2466745PH-Mar21