Press Releases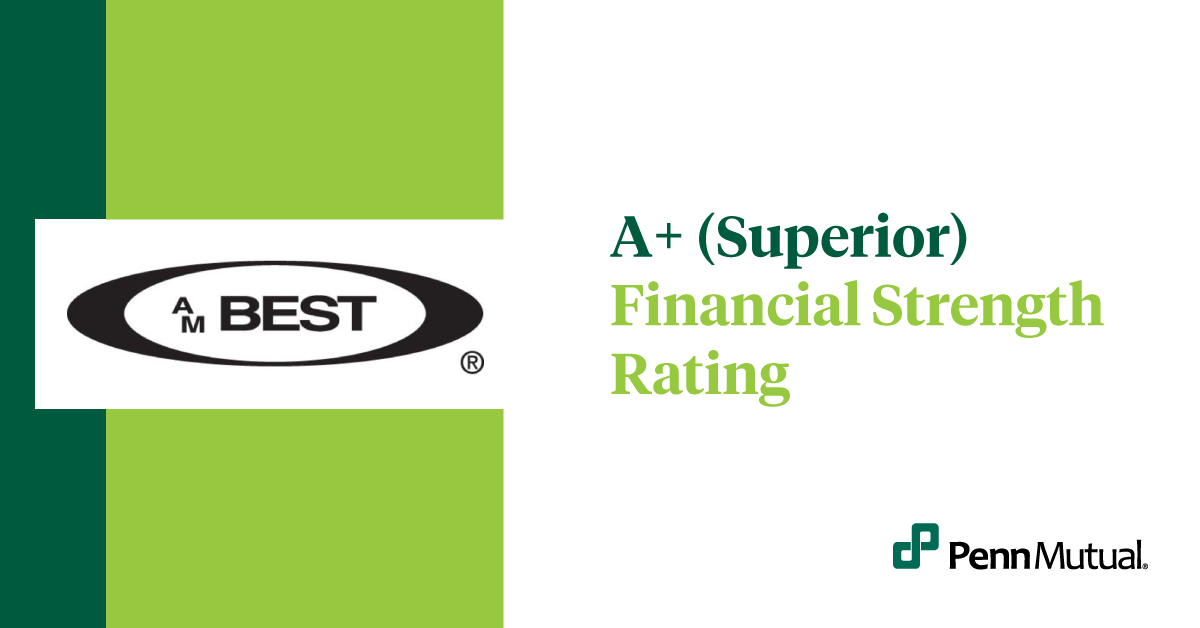 A.M. Best Affirms Credit Ratings of The Penn Mutual Life Insurance Company and Its Subsidiaries
HORSHAM, Pa. – April 12, 2019 – AM Best has affirmed the Financial Strength Rating (FSR) of A+ (Superior) and the Long-Term Issuer Credit Ratings (Long-Term ICRs) of "aa-" of The Penn Mutual Life Insurance Company (Penn Mutual Life) (Horsham, PA) and its wholly owned subsidiary, The Penn Insurance and Annuity Company (Wilmington, DE) The outlook of these Credit Ratings (ratings) is stable. Concurrently, AM Best has upgraded the FSR to A+ (Superior) from A (Excellent) and the Long-Term ICRs to "aa-" from "a" of Vantis Life Insurance Company (Vantis Life) (Windsor, CT) and Vantis Life Insurance Company of New York (Brewster, NY). The outlook of the Long-Term ICR has been revised to stable from positive, while the outlook of the FSR is stable. AM Best also has affirmed the Long-Term Issue Credit Ratings (Long-Term IRs) of "a" on the $200 million 6.65% surplus notes due 2034 and the $200 million 7.625% surplus notes due 2040, issued by Penn Mutual Life. The outlook of the Long-Term IRs is stable. These companies are collectively referred to as Penn Mutual.
The ratings of Penn Mutual reflect its balance sheet strength, which AM Best categorizes as strongest, as well as its strong operating performance, favorable business profile and appropriate enterprise risk management (ERM). The rating upgrades of the Vantis Life companies reflect their strategic importance and further integration into the Penn Mutual group. The affirmations of Penn Mutual reflect the organization's favorable risk-adjusted capitalization, as well as favorable liquidity measures and overall financial flexibility. Additionally, Penn Mutual continues to manage its investment portfolio effectively, which has historically performed well and provided a steady stream of net investment income.
Penn Mutual continues to maintain a highly regarded position as a leading carrier within the ordinary life insurance market, while also continuing to build out complementary products and offer value-added options to its target markets. The Vantis companies offer further diversity in both distribution and target markets. Technological initiatives within the organization have demonstrated its ability to innovate an end-to-end experience for both advisors and clients, significantly ahead of many of its peer companies. Premium growth trends have been favorable over the past five-year period and operating metrics tied to its core operations have been strong. Statutory operating metrics have been impacted somewhat by strain related to sales of certain products. AM Best expects that Penn Mutual will continue to produce favorable top and bottom line trends that exceed industry peers. The company's strong ERM practices reflect its formalized risk management framework including stated risk appetite and tolerances, extensive stress testing and overall strong risk culture across all levels of the organization.
This press release relates to Credit Ratings that have been published on AM Best's website. For all rating information relating to the release and pertinent disclosures, including details of the office responsible for issuing each of the individual ratings referenced in this release, please see AM Best's Recent Rating Activity web page. For additional information regarding the use and limitations of Credit Rating opinions, please view Understanding Best's Credit Ratings. For information on the proper media use of Best's Credit Ratings and AM Best press releases, please view Guide for Media - Proper Use of Best's Credit Ratings and AM Best Rating Action Press Releases.
About A.M. Best
AM Best is a global rating agency and information provider with a unique focus on the insurance industry. Visit www.ambest.com for more information.
These ratings do not imply approval of our products and do not reflect any indication of their performance. Past performance is no guarantee of future results. For more information, click here.
2500965TM_Apr21