Press Releases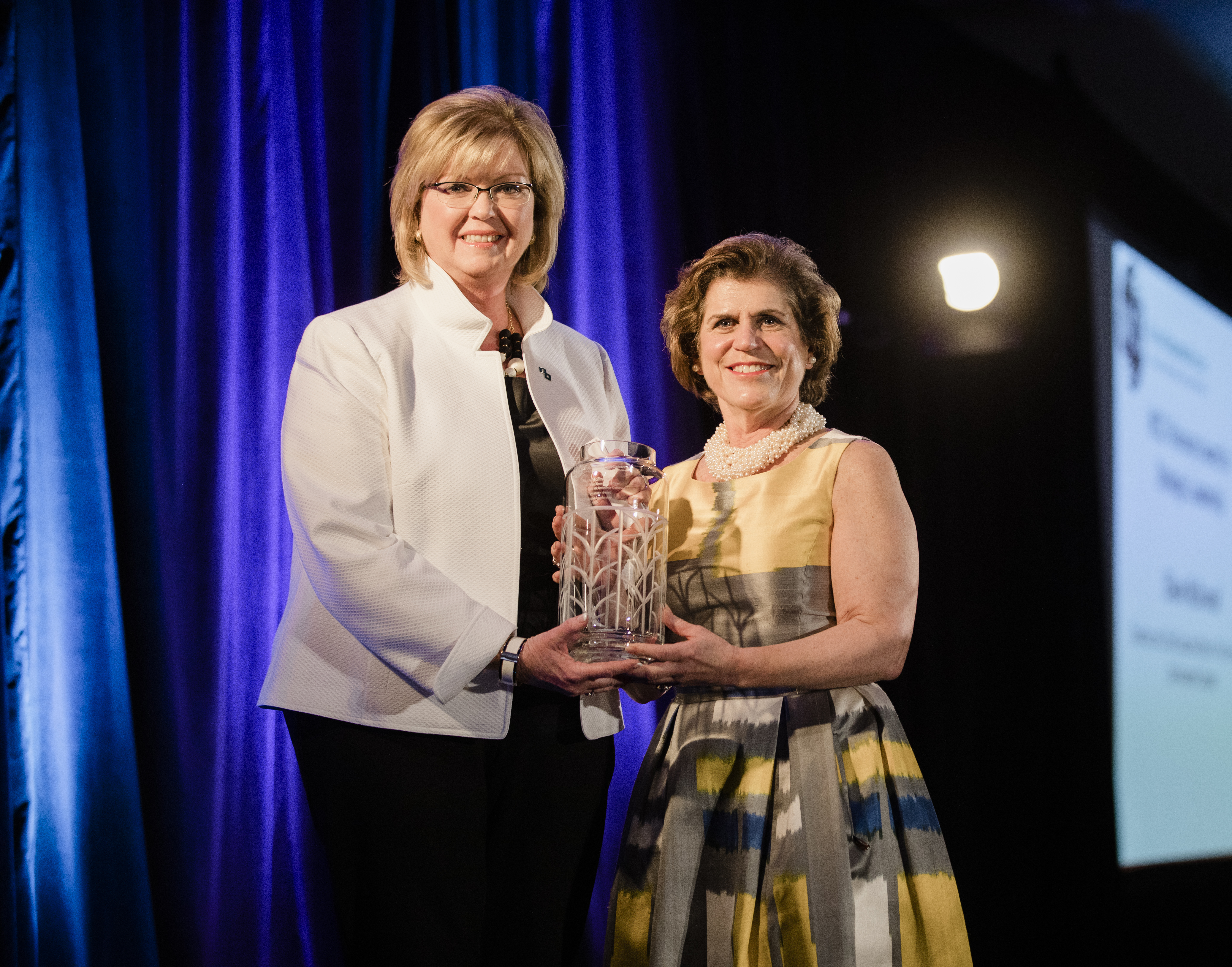 The Penn Mutual Life Insurance Company Chairman and CEO Eileen McDonnell Selected for 2019 Visionary Award for Strategic Leadership
Left to right: Eileen McDonnell, chairman and CEO of Penn Mutual, and Joan Steel, WCD member and Co-chair of the Visionary Awards Selection Committee.
HORSHAM, Pa. – April 8, 2019 – The Penn Mutual Life Insurance Company (Penn Mutual) is pleased to announce that Chairman and CEO Eileen McDonnell has been honored with the WomenCorporateDirectors (WCD) 2019 Visionary Award for Strategic Leadership. After a thorough evaluation of nominees, McDonnell was selected for leading Penn Mutual on its path of long-term strategic growth with a focus on industry and community partnerships.
Notable to WCD were Penn Mutual's significant innovations, which are not only propelling the company forward, but setting the tone for the financial services industry. Additionally, McDonnell's purpose-driven leadership has allowed the company to sustain success and financial strength during the recession and over the past decade. Under her leadership, Penn Mutual has remained committed to its long-term objectives, resulting in industry-leading growth and a rapid ascent on the prominent Fortune 1000 list. Reinforcing McDonnell's resumé for this award is her commitment to shared leadership with a diverse team – supported by initiatives throughout the Penn Mutual organization.
"We operate on the basis of shared leadership. With over 40 percent female representation among our board members and executive leaders, we're creating real change in the financial services industry," McDonnell says. "It is that philosophy that runs deep in our culture, and in turn has fueled our corporate initiatives, industry success and overall long-term strategy. On behalf of our board, leadership team and associates, I'm honored to accept this award, which is truly a testament to our company strength and commitment to our strategic vision."
Each year with its Visionary Award program, WCD recognizes companies and business leaders who demonstrate best practice around shared value and diversity while delivering strong financial performance. The award will be presented on May 20 at the Visionary Awards Dinner, which is part of the WCD Global Institute in Silicon Valley. McDonnell will be honored along with three other recipients in categories that include Leadership and Governance of a Public Company, Leadership and Governance of a Private Company, and Innovation in Shared Value. For more information on the awards, visit the WCD website.
About The Penn Mutual Life Insurance Company
Since 1847, Penn Mutual has been committed to helping people live life with confidence. At the heart of this purpose is the belief that life insurance is central to a sound financial plan. Through our network of trusted advisers, we are dedicated to helping individuals, families and businesses achieve their dreams. Penn Mutual supports its advisers with retirement and investment services through Hornor, Townsend & Kent, LLC Registered Investment Advisor and wholly owned subsidiary. Member FINRA/SIPC. We are proud to work together in a values-driven and relationship-based culture. Visit Penn Mutual at www.pennmutual.com.
Contact
Haley Rosa
Gregory FCA
(610) 228-2805
haley@gregoryfca.com
Lauren Kane
Penn Mutual
(215) 956-8760
kane.lauren@pennmutual.com
2484889RM-Apr21