Press Releases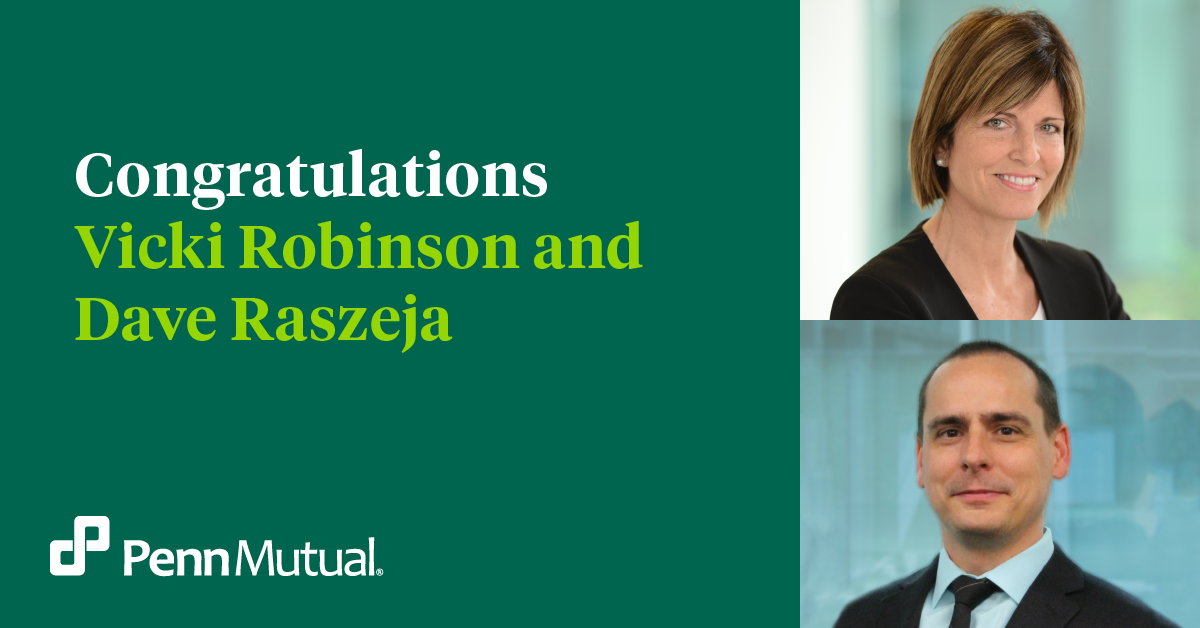 The Penn Mutual Life Insurance Company Promotes Vicki Robinson to SVP, Chief Ethics and Compliance Officer, and Dave Raszeja to SVP, Financial Management and Chief Risk Officer
Tenured leaders tapped to fill key roles as company continues its expansion
HORSHAM, Pa. – May 28, 2019 – The Penn Mutual Life Insurance Company (Penn Mutual) is pleased to announce two recent internal promotions that position the company for continued success and further sustain their long-term commitments to policyholders. As of April 1, Vicki Robinson, who has been with Penn Mutual since 2005, is now SVP, chief ethics and compliance officer, and Dave Raszeja, with Penn Mutual since 2001, is now SVP, financial management and chief risk officer.
In her new role, Robinson will lead the ethics and compliance program for both Penn Mutual and most of its affiliates. Her responsibilities will include overseeing the compliance of applicable laws, regulations, and internal policies and procedures. Robinson and her team will also partner with advisers to help educate them on regulatory matters as they work to meet their clients' needs within a compliant environment. Prior to her promotion, she served as chief operating officer and chief compliance and risk officer for Penn Mutual Asset Management, LLC.
Raszeja will oversee financial reporting, accounting, financial controls, actuarial valuation, and financial planning and analysis, along with the enterprise risk management function for the company. Beginning his career at Penn Mutual as an actuarial analyst, Raszeja climbed quickly to several other roles before being named chief risk officer in 2012 and chief ethics officer in 2014. He has also served as an adjunct professor at Columbia University, teaching courses in enterprise risk management.
"As a company that has delivered on its promises for over 172 years, we pride ourselves on our enduring stability and financial position in the industry. Vicki and Dave's appointment into these roles play a major part in supporting our long-term mission to continue on this path," explains Eileen McDonnell, chairman and CEO at Penn Mutual. "Throughout their individual tenure here at Penn Mutual, they have made many contributions to our success, and I am optimistic they will continue to uphold the commitment we make to our advisers and policyholders."
About The Penn Mutual Life
Penn Mutual is committed to helping people live life with confidence. At the heart of this purpose is the belief that life insurance is central to a sound financial plan. Through our network of trusted advisers, we are dedicated to helping individuals, families and businesses achieve their dreams. Penn Mutual supports its advisers with retirement and investment services through its wholly owned subsidiary Hornor, Townsend & Kent, LLC, member FINRA/SIPC. Visit Penn Mutual at www.pennmutual.com.
Contact
Karyn Piechule
Gregory FCA
610-228-2107
Karyn@gregoryfca.com
Lauren Kane
Penn Mutual
(215) 956-8760
kane.lauren@pennmutual.com
2553790TM_May21