Press Releases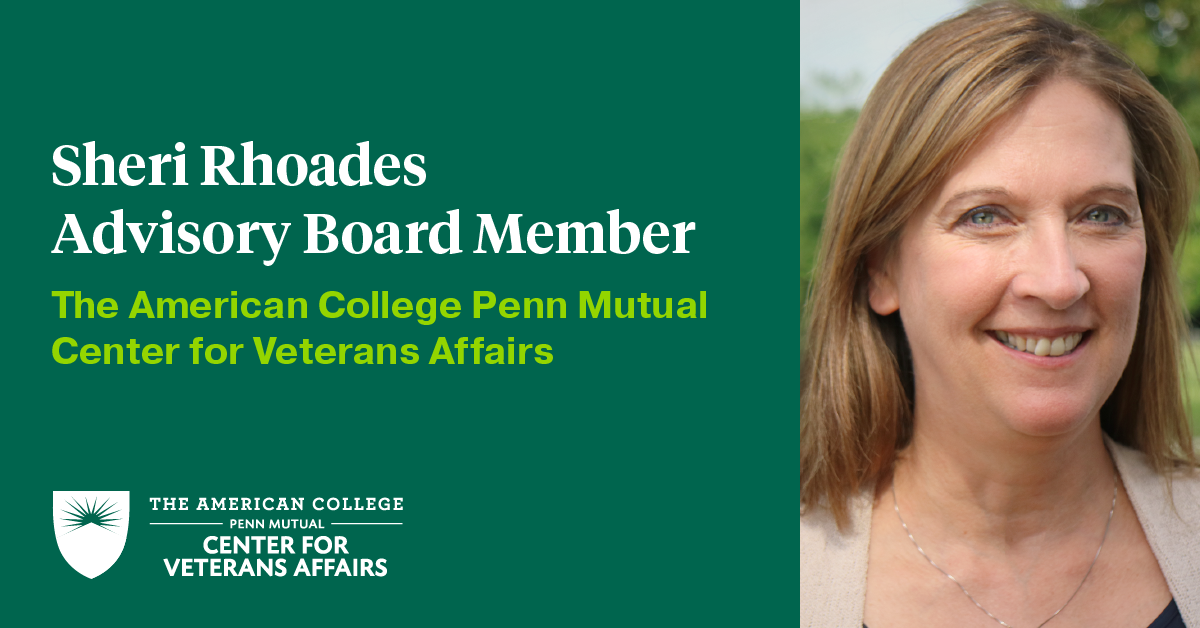 The American College Penn Mutual Center for Veterans Affairs Names Sheri Rhoades to Advisory Board
A military veteran and long-tenured Penn Mutual leader, Rhoades is a welcome addition to board
HORSHAM, Pa. – June 7, 2019 – The Penn Mutual Life Insurance Company (Penn Mutual) is pleased to announce the appointment of Sheri Rhoades to The American College Penn Mutual Center for Veterans Affairs (PMCVA) advisory board. Rhoades will join the 14-person board to support military scholarships and uphold the objectives of the organization, based in Bryn Mawr, Pa.
PMCVA seeks to support veterans and their spouses as they transition from active duty to careers in the financial services profession. Since its start in 2012, 500 individuals have been granted full scholarships to obtain financial designations such as the CFP®, ChFC®, CLU®, and master's degrees as they reenter the civilian workforce.
Rhoades served as a yeoman in the U.S. Navy with duty stations at the Naval Damage Control Training Center in Philadelphia and the Marine Corps Air Station in Okinawa, Japan. Her father, father-in-law, husband and son have all honorably served in the U.S. Navy. Her eight-year military career has guided Rhoades' leadership style, most notably her philosophy on teamwork and collaboration.
Currently, Rhoades is vice president, business transformation at Penn Mutual, where she has worked for the last 16 years. In this role, she is responsible for aligning Penn Mutual's change agents with the corporate strategy to ensure visibility and clarity. Rhoades builds strong cross-functional teams that create executable programs and roadmaps to achieve goals.
"Sheri's appointment to the board comes at a pivotal time for the Center as it looks to expand its initiatives," says Eileen McDonnell, chairman and CEO at Penn Mutual. "Her experience, support for veterans and track record of success positions her well to contribute to the next wave of growth."
PMCVA Executive Director Ted Digges explains that, given Rhoades' background in the military and long-tenured work with Penn Mutual, she is uniquely qualified to not only be a part of the board, but to also have a positive impact on its objectives.
"Sheri's personal and professional philosophies wholly align with PMCVA's mission to empower veterans and their spouses with career opportunities," says Digges. "We are excited to have her join the advisory board and know her contributions will ultimately help amplify our mission."
For more information on the Center, and its assistance to military veterans and their spouses, please visit www.veterans.theamericancollege.edu.
About The Penn Mutual Life Insurance Company
Penn Mutual is committed to helping people live life with confidence. At the heart of this purpose is the belief that life insurance is central to a sound financial plan. Through our network of trusted advisers, we are dedicated to helping individuals, families and businesses achieve their dreams. Penn Mutual supports its advisers with retirement and investment services through its wholly owned subsidiary Hornor, Townsend & Kent, LLC, member FINRA/SIPC. Visit Penn Mutual at www.pennmutual.com.
Contact
Karyn Piechule
Gregory FCA
610-228-2107
Karyn@gregoryfca.com
Lauren Kane
Penn Mutual
(215) 956-8760
kane.lauren@pennmutual.com
2571463TM_Jun21