Press Releases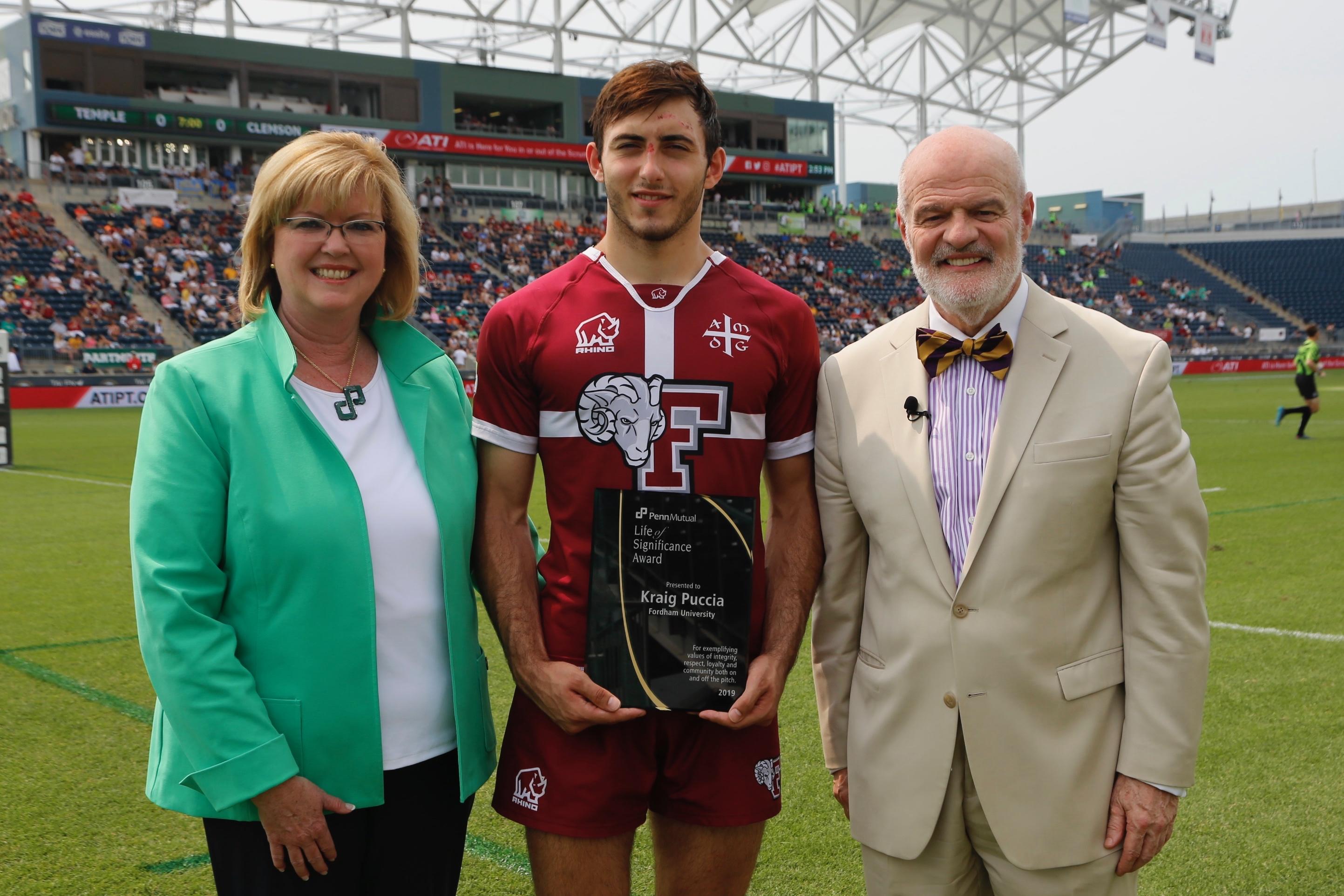 The Penn Mutual Life Insurance Company Announces the Recipient of its 2019 Life of Significance Award
During the Penn Mutual Collegiate Rugby Championship, student-athlete Kraig Puccia from Fordham University honored for contributions on and off the rugby pitch
Left to right: Eileen McDonnell, chairman and CEO of Penn Mutual, Kraig Puccia, 2019 Life of Significance Award recipient, and Joseph Jordan, author of "Living a Life of Significance."
HORSHAM, Pa. – June 3, 2019 – The Penn Mutual Life Insurance Company (Penn Mutual) is pleased to announce Kraig Puccia, a sophomore at Fordham University, as the fifth annual Life of Significance Award winner. As one of three finalists selected from a nationwide field of nominees, Puccia's recognition was unveiled during the Penn Mutual Collegiate Rugby Championship (CRC).
The Life of Significance Award is given annually to a collegiate rugby player, male or female, participating in the CRC, which took place at Talen Energy Stadium in Chester, Pennsylvania, from May 31 through June 2. The recipient of this award exemplifies Penn Mutual's values of integrity, commitment and respect, and has made substantial contributions to society and their community.
Puccia, a 19-year-old resident of Whitestone, New York, is a devoted volunteer in his spare time and most notably, has traveled to Bethel, Alaska, as a member of Fordham's GO! (Global Outreach) Program where he was a volunteer at the Tundra Women's Coalition. The organization works to protect women in the community from their partners during alcohol or drug-induced episodes that threaten their safety. In 2018, Puccia volunteered at the Domestic Violence Bureau at the Queens District Attorney's Office in Queens, New York. This summer, he plans to volunteer at the Veterans Advocacy Project through the Urban Justice Center performing pro-bono work for neglected veterans throughout New York City.
"Kraig is an exceptional young man who has already done so much good for the world," says Fordham Men's Rugby Head Coach Andrew Gheraldi, who nominated Puccia for the award. "As a man for others, Kraig is a testament to the Jesuit ideals of our university. We are proud to have him as part of our rugby program at Fordham and look forward to his continued growth both on and off the pitch."
Eileen McDonnell, chairman and CEO of Penn Mutual, says Puccia's history of service and his future goals epitomize not only what the Life of Significance award stands for, but also the values instilled throughout Penn Mutual. "Kraig's commitment and dedication to his community and beyond is a true reflection of his character. His selflessness and passion to serve those in need make Penn Mutual proud to present him with the 2019 Life of Significance Award."
Puccia now joins an elite class of previous Life of Significance winners including Nick Carey from Harvard University, Jenna Jones from the U.S. Naval Academy, David Caputo from the University of Michigan and David Schroder from the U.S. Naval Academy.
For his achievement, Penn Mutual will donate $5,000 to Tundra Women's Coalition, the charity of Puccia's choice. His rugby team will also be gifted with $1,000 worth of Rhino Rugby equipment and gear.
About The Penn Mutual Life Insurance Company
Penn Mutual is committed to helping people live life with confidence. At the heart of this purpose is the belief that life insurance is central to a sound financial plan. Through our network of trusted advisers, we are dedicated to helping individuals, families and businesses achieve their dreams. Visit Penn Mutual at www.pennmutual.com.
Contact
Darby Rowe
Gregory FCA
(610) 228-2148
Darby@gregoryfca.com
Lauren Kane
Penn Mutual
(215) 956-8760
kane.lauren@pennmutual.com
2562165TM_Jun21