Press Releases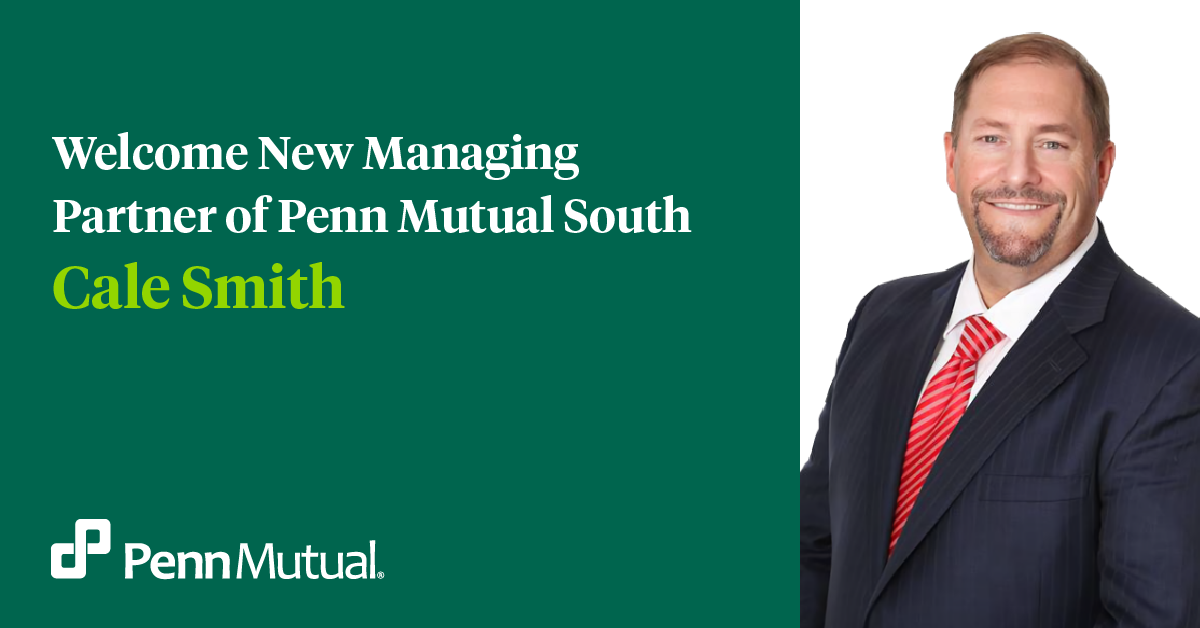 The Penn Mutual Life Insurance Company Announces New Managing Partner of Penn Mutual South
Army veteran and philanthropist Cale P. Smith heads the company's Baton Rouge agency
HORSHAM, Pa. – July 22, 2019 – The Penn Mutual Life Insurance Company (Penn Mutual) is pleased to announce Cale P. Smith as the new managing partner of Penn Mutual South, its Baton Rouge, Louisiana agency. With eyes on growth, Smith will use his nearly 20 years of experience in the financial services industry to support and strengthen Penn Mutual's southern presence.
Smith has a history of success, having grown his career at Northwestern Mutual and MassMutual, and will continue to build upon his achievements at Penn Mutual. Smith is certified as a Life Underwriter Training Council Fellow (LUTCF) and a Chartered Life Underwriter (CLU). He is also a licensed insurance agent in five states.
Financial planning is a passion for Smith. He and his wife, Katherine, personally funded the Cale P. & Katherine Smith Student Financial Management Center at Louisiana State University. This center serves to educate and empower students to manage and secure their financial futures. Smith also regularly gives lectures at the university's business college and professional sales institute.

"We are always striving to help people do more in life," says Tom Harris, executive vice president and chief distribution officer at Penn Mutual. "Cale's extensive experience and vast knowledge of the industry will only help Penn Mutual in this goal. His focus on expansion across Louisiana and into Southern Mississippi, Alabama and the Gulf Coast of Florida will serve us well as we position ourselves as a leader in the life insurance industry."

Smith's expertise extends beyond the financial services industry, having served as a combat medic with the U.S. Army for 14 years. In this role, he ran battalion aid stations for wounded soldiers, and assisted with natural disaster relief. The lessons he learned while serving in the Army are now a focal point of his insurance career as he works to take the best financial care of his clients.

"I'm thrilled for this new opportunity to align myself with a company that has a strong financial history and products that are competitive in the life insurance industry," says Smith. "Partnering with Penn Mutual will allow me to make the greatest impact in my community and beyond." In addition to expanding the company's presence in the South, Smith will also be responsible for recruiting and developing advisers to help them meet their clients' long-term financial goals.

Smith and his family have made their home in Baton Rouge, where he serves on the board of several local foundations and charities.

About The Penn Mutual Life Insurance Company
Penn Mutual is committed to helping people live life with confidence. At the heart of this purpose is the belief that life insurance is central to a sound financial plan. Through our network of trusted advisers, we are dedicated to helping individuals, families and businesses achieve their dreams. Penn Mutual supports its advisers with retirement and investment services through its wholly owned subsidiary Hornor, Townsend & Kent, LLC, member FINRA/SIPC. Visit Penn Mutual at www.pennmutual.com.


Contact
Melanie Yuill
Gregory FCA
(215) 488-1239
darby@gregoryfca.com
Lauren Kane
Penn Mutual
(215) 956-8760
kane.lauren@pennmutual.com


2641394TM_Jul21