Press Releases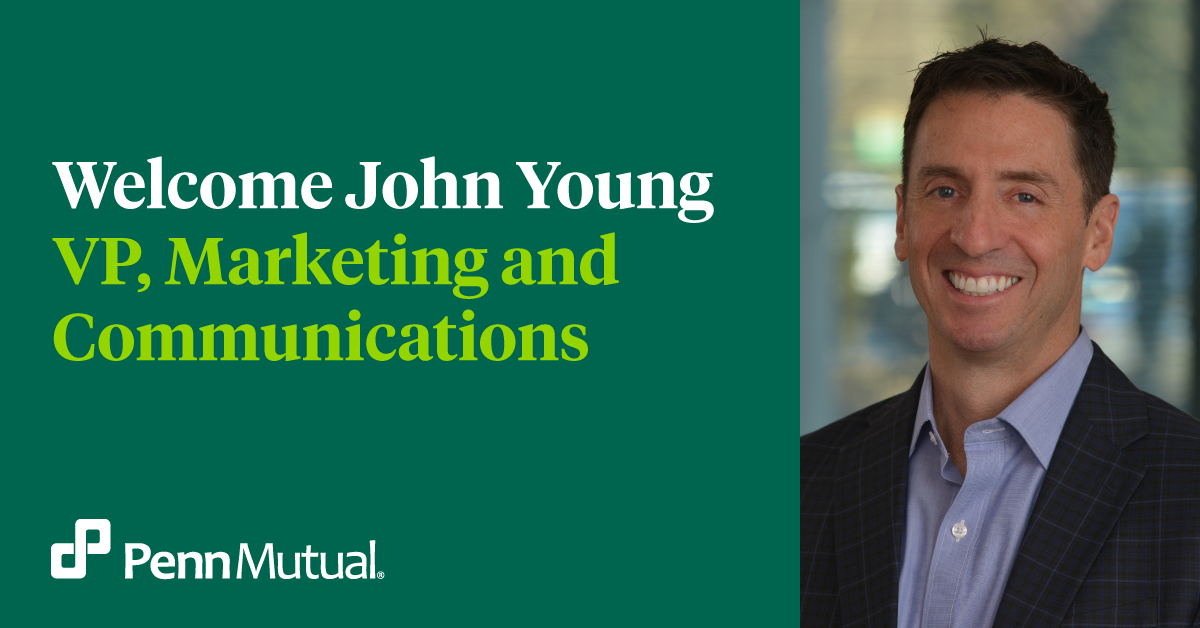 The Penn Mutual Life Insurance Company Names John Young as VP of Marketing and Communications
Experienced in tech and startup marketing, Young brings an innovative approach to Penn Mutual's growth trajectory
HORSHAM, Pa. – July 9, 2019 – The Penn Mutual Life Insurance Company (Penn Mutual) is pleased to announce John Young has joined the company as vice president of marketing and communications. With experience in the life insurance industry as well as technology and startups, Young brings a unique mix of marketing, communications and customer engagement expertise to the Fortune 1000 company.
"Innovation is key to delivering value to existing and future clients," says Dave O'Malley, president and COO at Penn Mutual. "We specifically wanted a marketing and communications head who had diverse experience, and could draw from the innovation economy to better position Penn Mutual for the future. John's 30 years of experience in diverse industries will play a critical role in telling our story in a compelling, differentiated manner to advisers and consumers."
Part of that mission is to communicate Penn Mutual's industry leadership and innovation. Young will bring a fresh perspective to Penn Mutual, allowing the company to continue to maintain a competitive edge within the financial services industry. Technology is a key component in connecting with current and potential customers, as well as working with the advisers who serve as a vital link between Penn Mutual and the end consumer.
"Coming to Penn Mutual and returning to the insurance industry represents a bit of a homecoming," says Young, who worked in the industry early in his career before co-founding a financial technology company and later serving as vice president of customer engagement at Comcast. Most recently, Young founded a boutique marketing firm focused on helping technology startups grow.
"Relationships are at the heart of Penn Mutual, within the company and among the advisers and clients we serve. I am excited to elevate the company's already well-established brand, taking it to new heights in the minds of financial professionals and consumers," he says.
A graduate of Lehigh University, Young currently lives in the Chestnut Hill neighborhood in Philadelphia, Pa.
About The Penn Mutual Life Insurance Company
Penn Mutual is committed to helping people live life with confidence. At the heart of this purpose is the belief that life insurance is central to a sound financial plan. Through our network of trusted advisers, we are dedicated to helping individuals, families and businesses achieve their dreams. Penn Mutual supports its advisers with retirement and investment services through its wholly owned subsidiary Hornor, Townsend & Kent, LLC, member FINRA/SIPC. Visit Penn Mutual at www.pennmutual.com.
Contact
Darby Rowe
Gregory FCA
610-228-2148
darby@gregoryfca.com
Lauren Kane
Penn Mutual
215-956-8760
Kane.Lauren@pennmutual.com
2628475TM_Jul21