Press Releases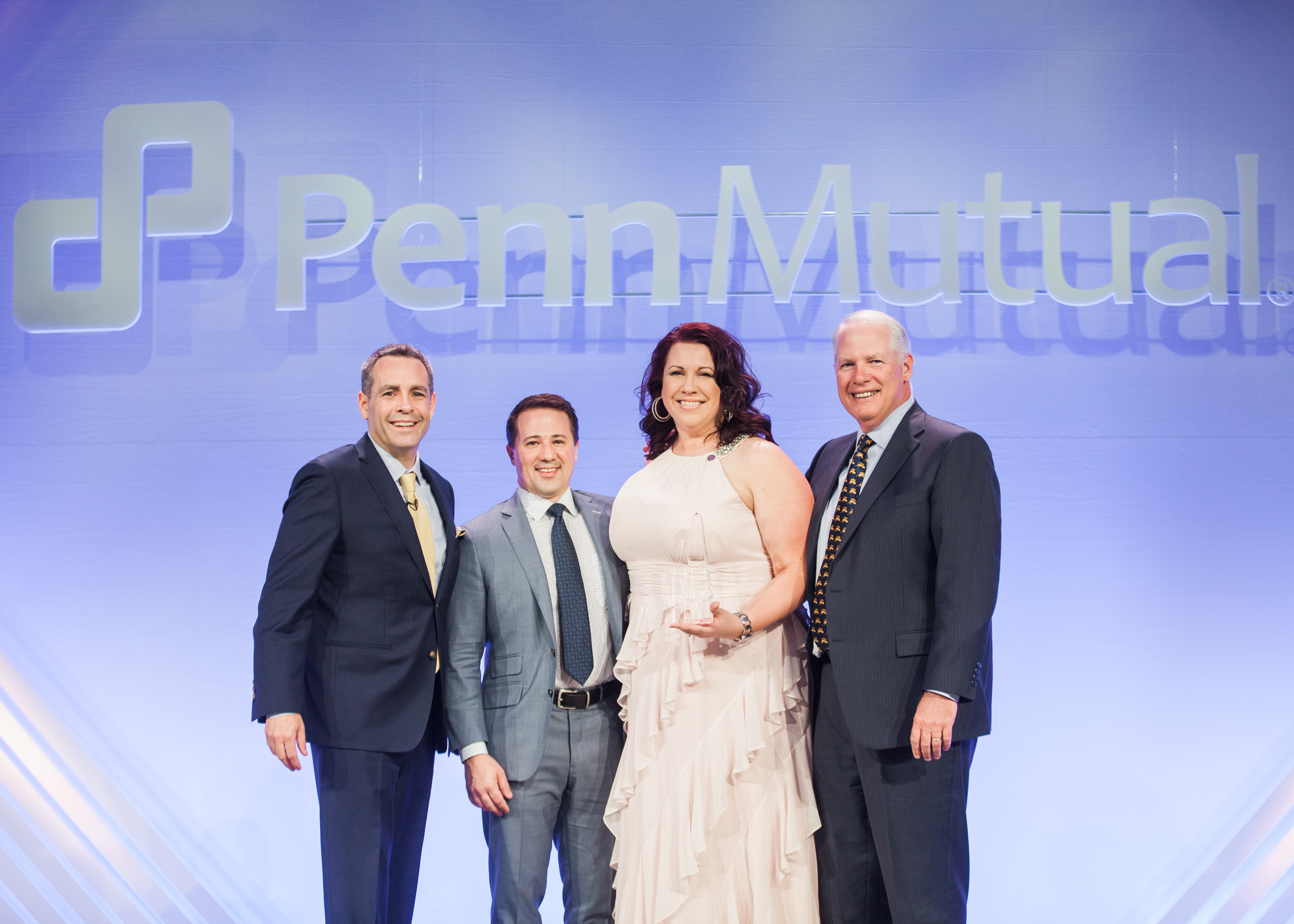 The Penn Mutual Life Insurance Company Presents Melanie Colusci with the 2019 Rob Holmes Financial Professional of the Year Award
Left to right: Tim Donahue, president and CEO of HTK, Damon Colusci, VP of Bridger Financial Group, Melanie Colusci, president of Bridger Financial Group, and Tom Harris, EVP and chief distribution officer of Penn Mutual.

HORSHAM, Pa. – July 19, 2019 – The Penn Mutual Life Insurance Company (Penn Mutual) is pleased to announce Melanie Colusci, CFP®, AEP®, as the recipient of the 2019 Rob Holmes Financial Professional of the Year Award. Colusci is the president and founder of Bridger Financial Group, associated with 21st Century Financial, Penn Mutual's Ohio and Western Pennsylvania agency.
The award recognizes individuals for their commitment to continuing education, and a high standard of ethics and performance in helping clients achieve financial security. Recipients of the Rob Holmes Financial Professional of the Year Award must demonstrate exceptional dedication to their clients and the financial services profession, be members in good standing of specific industry organizations, and have achieved a high degree of sales success.
Colusci, a 20-year veteran of the financial services industry, develops and executes long-term, strategic financial plans to make her clients' visions a reality. She takes inspiration from the female entrepreneurs she works with daily and understands their needs and goals for lasting financial security.
"Receiving this distinguished award is such an honor," said Colusci. "It's my mission to empower my clients and inform them about the possibilities that can come from creating a financial plan that satisfies their long-term goals. I am proud to devote my time to learning and growing in this profession so that I can help clients maximize their wealth potential and fulfill their dreams."
"Melanie has dedicated her career to improving the lives of her clients, which is a testament to her commitment to the profession," said Tom Harris, executive vice president and chief distribution officer at Penn Mutual. "She continues to inspire those around her, and Penn Mutual is pleased to honor her with this well-deserved award."
Colusci is a multi-year winner of the Five Star Wealth Manager award, and she is currently a member of the Women Presidents' Organization and Pittsburgh Women's Mastermind.
About The Penn Mutual Life Insurance Company
Penn Mutual is committed to helping people live life with confidence. At the heart of this purpose is the belief that life insurance is central to a sound financial plan. Through our network of trusted advisers, we are dedicated to helping individuals, families and businesses achieve their dreams. Visit Penn Mutual at www.pennmutual.com.
Contact

Morgan Polley
Gregory FCA
610-228-2140
morgan@gregoryfca.com
Lauren Kane
Penn Mutual
215-956-8760
Kane.Lauren@pennmutual.com


The requirements of the Rob Holmes Financial Professional of the Year Award do not evaluate the quality of services provided to clients and is not indicative of the applicant's future client performance.
The Five Star Wealth Manager Award, administered by Crescendo Business Services, LLC (dba Five Star Professional), is based on objective criteria including credentialing and designations, compliance with Firm and regulatory standards, client retention rates, households served and assets managed. Wealth managers do not pay a fee to be considered or awarded. Once awarded, wealth managers may opt to purchase additional profile ad space or related award promotional products. The award methodology does not evaluate the quality of services provided. The award is not indicative of the award winner's future performance. 1,667 Pittsburgh area wealth managers were considered for the award; 251 (approximately 15% percent of the award candidates) were named Five Star Wealth Managers.
2639340TM_Jul21