Press Releases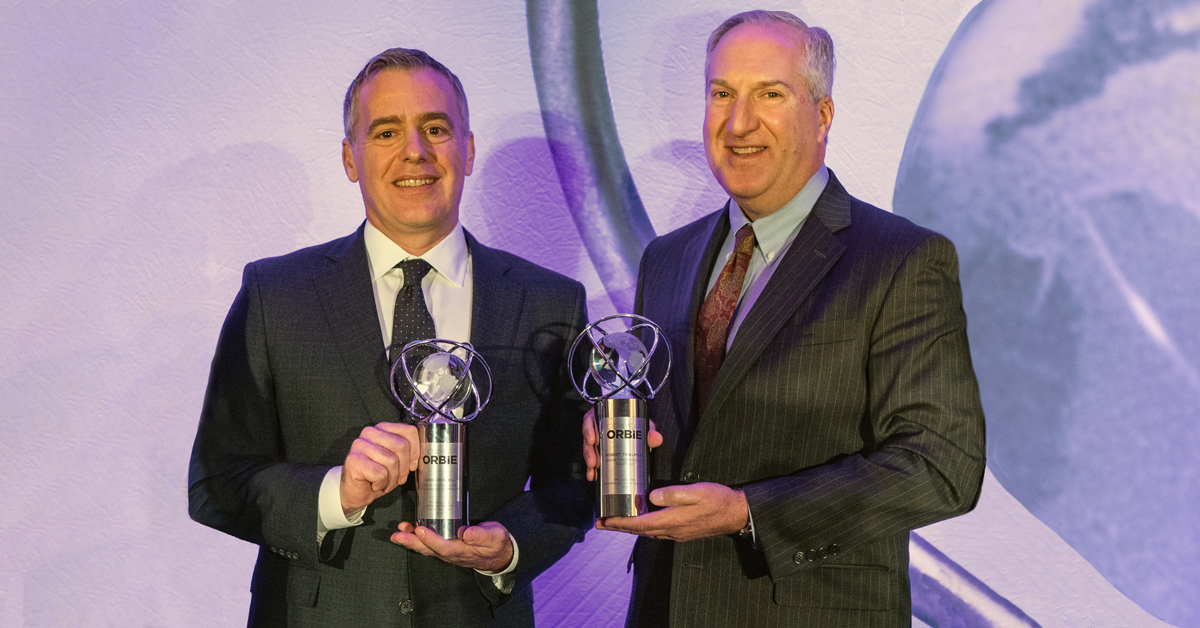 2019 ORBIE Awards Honor Two Executives from The Penn Mutual Life Insurance Family of Companies
Penn Mutual's Greg Driscoll and Janney Montgomery Scott's Robert Thielmann Honored with 2019 Philadelphia CIO of the Year Awards
Left to right: Greg Driscoll, SVP and CIO, Penn Mutual and Bob Thielmann, SVP and CIO, Janney Montgomery Scott.
HORSHAM, Pa. – October 22, 2019 – The Penn Mutual Life Insurance Company (Penn Mutual) is excited to announce that two executives from their family of companies were presented with 2019 Philadelphia CIO of the Year ORBIE Awards. Greg Driscoll, senior vice president, service operations and CIO at Penn Mutual, and Robert Thielmann, senior vice president and CIO at Janney Montgomery Scott (Janney), an independently operated affiliate of Penn Mutual, earned recognition within the ORBIE's Large Enterprise category and Enterprise category, respectively.
Announced at the PhillyCIO award ceremony on October 18, the recognition highlights the best-of-the-best in Philadelphia technology leadership. For Penn Mutual, the wins for both Driscoll and Thielmann underscore the innovative success and technology advancements within the company's corporate family and reinforce the ability to attract top talent.
"Greg and Bob's recognition is a larger testament to the innovative strength of our family of companies and our unwavering commitment to providing best in class service to our advisors and their clients," says Eileen McDonnell, chairman and CEO at Penn Mutual.
Since joining the company in 2004, Driscoll's passion for innovation, and technology application with a hands-on approach, has revolutionized Penn Mutual's customer experience and capabilities through enhanced digital engagement. Most notably, Driscoll led his team in the creation, development and execution of Penn Mutual's industry-leading, end-to-end digital life insurance buying experience. The Accelerated Client Experience (ACE) streamlines the life insurance application processing and decision-making timeframe from an industry average of 30 days or more to as little as 24 hours. The platform rolled out in 2017 with significant success, including $72 million in first-year new premiums. Setting a new precedent within the insurance industry, ACE continues to drive substantial impact on company sales performance, provides efficiency in adviser adoption, and has elevated Penn Mutual's profile across the industry as a leader in innovation.
Thielmann is a decorated leader in the technology world and a seasoned financial services executive. Since joining Janney in 2008, he has incorporated advanced IT capabilities and innovation to strengthen technology development, infrastructure, and security, allowing Janney's financial advisors to more efficiently and effectively serve their clients.
Most recently, Thielmann's team successfully implemented two critical platforms: an award-winning financial advisor dashboard that increases productivity for Janney advisors to more effectively and efficiently manage individual client portfolios and a client's overall financial plan, and a client site that improves a client's direct access to information and reinforces the client-advisor relationship. During his tenure, Computerworld and InformationWeek selected Janney five times in the past six years as one of the "100 Best Places to Work in IT" or on their "Elite 100 Firm," rankings. Additionally, WealthManagement.com has twice recognized Janney for outstanding achievement in technology for broker-dealers with less than 1,000 financial advisors.


About The Penn Mutual Life Insurance Company
Penn Mutual is committed to helping people live life with confidence. At the heart of this purpose is the belief that life insurance is central to a sound financial plan. Through our network of trusted advisers, we are dedicated to helping individuals, families and businesses achieve their dreams. Penn Mutual supports its advisers with retirement and investment services through its wholly owned subsidiary Hornor, Townsend & Kent, LLC, member FINRA/SIPC. Visit Penn Mutual at www.pennmutual.com.
About Janney Montgomery Scott LLC
Janney provides advice to individual, corporate, and institutional clients. Our expertise includes guidance about asset management, corporate and public finance, equity and fixed income investing, equity research, institutional equity and fixed income sales and trading, investment strategy, financial planning, mergers and acquisitions, public and private capital raising, portfolio management, retirement and income planning, and wealth management. Janney is an independently-operated subsidiary of The Penn Mutual Life Insurance Company and is a member of the Financial Industry Regulatory Authority, New York Stock Exchange, and Securities Investor Protection Corporation. Additional company information is available at www.janney.com.
Contact
Karyn Baldwin
Gregory FCA
(610) 228-2107
Karyn@gregoryfca.com
Lauren Kane
Penn Mutual
(215) 956-8760
kane.lauren@pennmutual.com

2786771TM_Oct21