Press Releases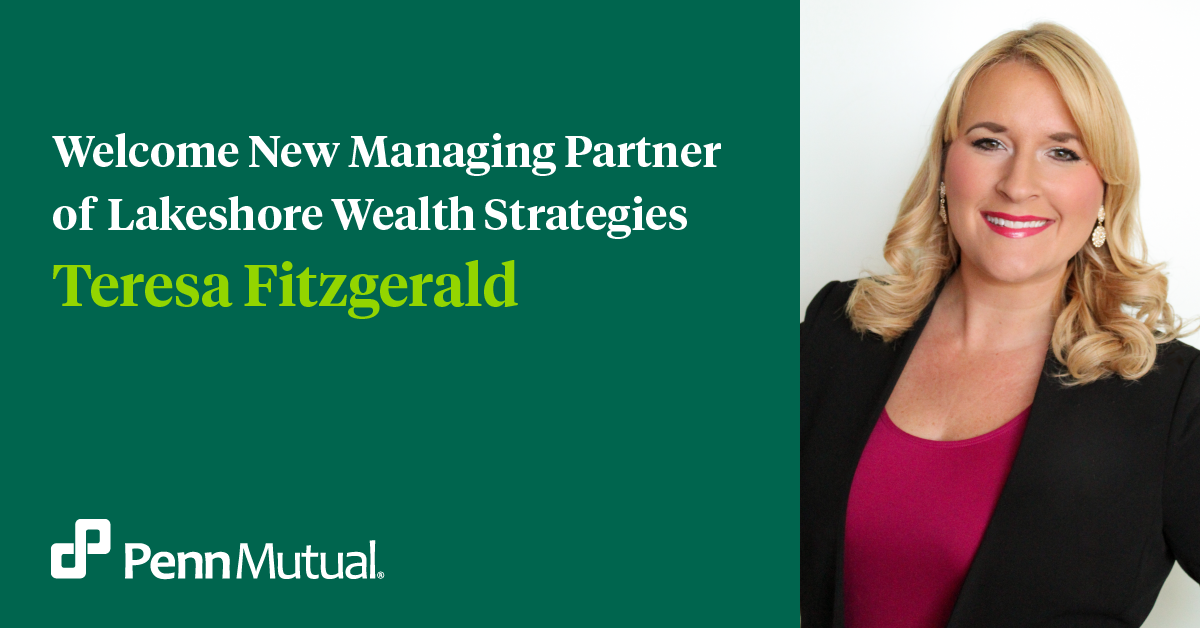 The Penn Mutual Life Insurance Company Announces New Managing Partner of Lakeshore Wealth Strategies
Illinois native Teresa M. Fitzgerald heads the company's Chicago agency
HORSHAM, Pa. – October 15, 2019 – The Penn Mutual Life Insurance Company (Penn Mutual) is pleased to announce Teresa M. Fitzgerald as the new managing partner of Lakeshore Wealth Strategies, its Chicago agency. With a background in strategic market and business development, Fitzgerald is in prime position to lead the agency toward optimal growth.
Fitzgerald joined the financial services industry in 2006, and during her tenure as an adviser and consultant, found a passion for serving clients at a mutual company. She specializes in financial adviser and team business coaching, talent management, leadership development and financial consulting. In her new role, she will work with advisers in career development, growth and market expansion.
"Teresa is a welcome addition to the Lakeshore and Penn Mutual team," says Tom Harris, executive vice president and chief distribution officer at Penn Mutual. "Her experience working within a mutual company aligns with our philosophy of putting our clients and policyholders first. Teresa's ability to network with those around her will serve well as she oversees the agency's growth in the greater Chicago area."
"I'm excited to support Lakeshore's growth and for the opportunity to work with a company that truly cares about its policyholders," says Fitzgerald. "Connecting with others is one of my passions and I'm committed to working with our advisers as they strive to build a career of sustainability and excellence."
Fitzgerald and her family currently reside in New Lenox, Ill. In her spare time, she gives back to other women in business as a mentor with the Chicago-based PINNK organization. In 2019, Fitzgerald was nominated to the 2019 North Shore Women in Business Awards in Chicago and most recently, she was nominated to the Penn Mutual 20/20/20 Women in Leadership program.
About The Penn Mutual Life Insurance Company
Penn Mutual is committed to helping people live life with confidence. At the heart of this purpose is the belief that life insurance is central to a sound financial plan. Through our network of trusted advisers, we are dedicated to helping individuals, families and businesses achieve their dreams. Penn Mutual supports its advisers with retirement and investment services through its wholly owned subsidiary Hornor, Townsend & Kent, LLC, member FINRA/SIPC. Visit Penn Mutual at www.pennmutual.com.
The requirements of the 2019 North Shore Women in Business Award do not evaluate the quality of services provided and is not indicative of the award nominee's future performance.
Contact
Haley Rosa
Gregory FCA
(610) 228-2805
haley@gregoryfca.com

Lauren Kane
Penn Mutual
(215) 956-8760
kane.lauren@pennmutual.com
2757959TM_Oct21