Press Releases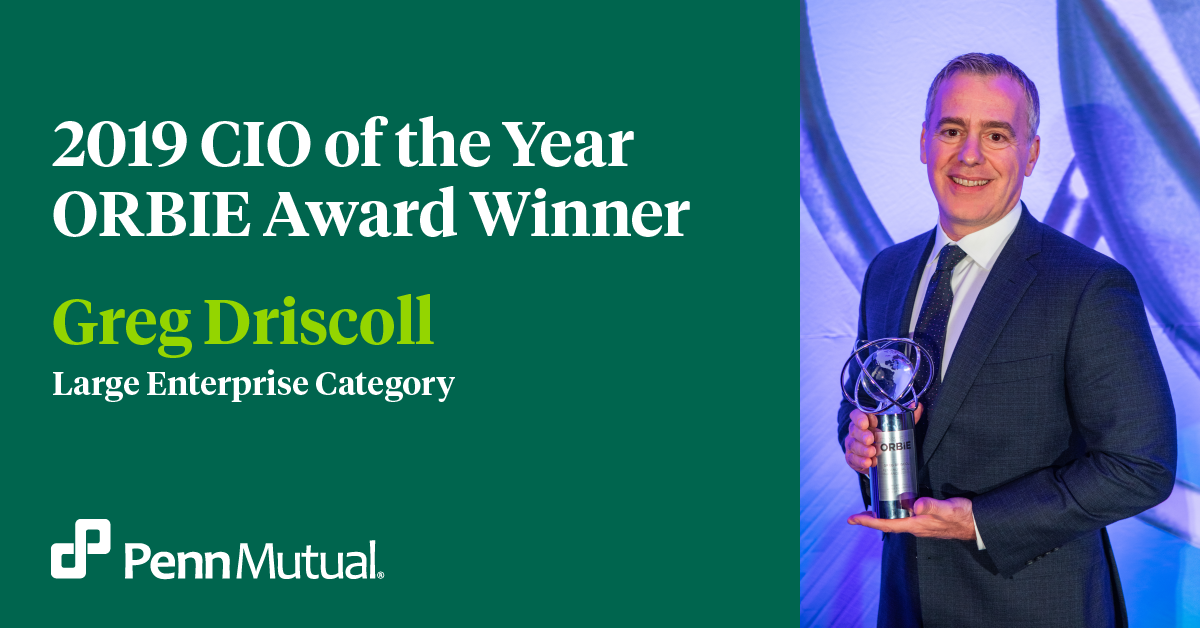 Greg Driscoll of The Penn Mutual Life Insurance Company Honored with 2019 Philadelphia CIO of the Year ORBIE Award
Driscoll recognized for innovation, excellence in technology and leadership
HORSHAM, Pa. – October 23, 2019 – The Penn Mutual Life Insurance Company (Penn Mutual) is excited to announce that Greg Driscoll, senior vice president, service operations and chief information officer, has been presented with a 2019 Philadelphia CIO of the Year ORBIE Award. The award highlights the best-of-the-best in Philadelphia technology leadership.
The annual award showcases CIOs across all industries who have led their companies to innovative success, while inspiring transformation in their organizations through technology advancements. Driscoll was recognized within the Large Enterprise category during the PhillyCIO award ceremony held on October 18.
Since joining the company in 2004, Driscoll's passion for innovation and technology application with a hands-on approach has recast Penn Mutual's customer experience and capabilities through enhanced digital engagement. Under his guidance, Penn Mutual has extended its leadership position in the life insurance industry by establishing a culture of innovative thought and continuous technology improvement.
Most notable was Driscoll's leadership of his team's creation, development and execution of Penn Mutual's industry-leading, end-to-end digital life insurance buying experience. The Accelerated Client Experience (ACE) streamlines the life insurance application processing and decision-making timeframe from an industry average of 30 days or more to as little as 24 hours. The platform rolled out in 2017 with significant success, including $72 million in first-year new premiums. Setting a new precedent within the insurance industry, ACE continues to drive substantial impact to company performance in sales, provides efficiency in adviser adoption, and has elevated the profile of Penn Mutual across the industry as a leader in innovation.
"Greg's vision and drive has put Penn Mutual in an enviable position to emerge from the shadows of an industry that has been typically slow to change and innovate," says David O'Malley, president and COO at Penn Mutual. "His strategic decisions and approach to technology set the stage for us to transform the way we conduct business internally, while helping us revolutionize how our policyholders purchase life insurance."
Commenting on his award recognition, Driscoll explains, "Of all our achievements at Penn Mutual, I'm most proud of building a culture of continuous improvement aligned with our strategic direction. I applaud my team for their dedication to define a new standard of technology at Penn Mutual – one that orients our associates to take risks while continually enhancing products and services that we provide to our advisers and policyholders."


About The Penn Mutual Life Insurance Company
Penn Mutual is committed to helping people live life with confidence. At the heart of this purpose is the belief that life insurance is central to a sound financial plan. Through our network of trusted advisers, we are dedicated to helping individuals, families and businesses achieve their dreams. Penn Mutual supports its advisers with retirement and investment services through its wholly owned subsidiary Hornor, Townsend & Kent, LLC, member FINRA/SIPC. Visit Penn Mutual at www.pennmutual.com.
Contact
Karyn Baldwin
Gregory FCA
(610) 228-2107
Karyn@gregoryfca.com
Lauren Kane
Penn Mutual
(215) 956-8760
kane.lauren@pennmutual.com


2780985TM_Oct21