Press Releases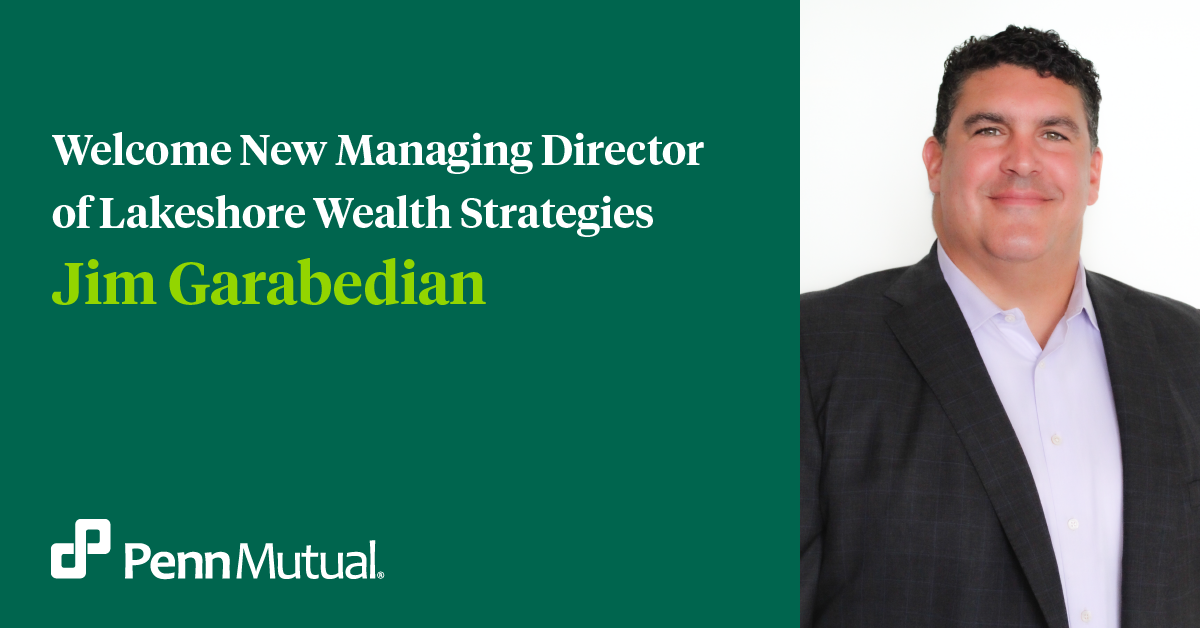 The Penn Mutual Life Insurance Company Announces New Managing Director of Lakeshore Wealth Strategies
Jim Garabedian drives strategic growth and retention at the company's Chicago agency
HORSHAM, Pa. – November 20, 2019 – The Penn Mutual Life Insurance Company (Penn Mutual) is pleased to announce Jim Garabedian as the new managing director of its Chicago agency, Lakeshore Wealth Strategies. In his new role, Garabedian focuses his attention on sales management, recruitment and retention.
Garabedian has served in the financial services industry for over 27 years, with a decade of his tenure spent in banking and money management. Through previous roles, he developed a passion for helping closely held businesses with their overall financial planning.
Garabedian joining the agency is the first major strategic move made by the new managing partner, Teresa Fitzgerald, who was appointed to her role on August 1. Together, Fitzgerald and Garabedian will oversee the Lakeshore Wealth Strategies' growth objectives.
"Jim's customer-first attitude and experience make him the perfect fit for our Chicago agency," explains Tom Harris, executive vice president and chief distribution officer at Penn Mutual. "Under this leadership team, Lakeshore stands in a prime position to elevate services and expansion efforts across the region."
"I am excited to join the Lakeshore team," says Garabedian. "The values of the agency thoroughly align with mine and make for a great foundation for sales and adviser development."
A Massachusetts native, Garabedian has qualified for multiple national recognition programs during his career, including the Million Dollar Round Table. He and his family reside in Naperville, Ill., where he gives back to the community by volunteering at The American Cancer Society, Wounded Warriors Foundation, Lurie Children's Hospital and a variety of mentorship programs in schools across the country.
About The Penn Mutual Life Insurance Company
Penn Mutual is committed to helping people live life with confidence. At the heart of this purpose is the belief that life insurance is central to a sound financial plan. Through our network of trusted advisers, we are dedicated to helping individuals, families and businesses achieve their dreams. Penn Mutual supports its advisers with retirement and investment services through its wholly owned subsidiary Hornor, Townsend & Kent, LLC, member FINRA/SIPC. Visit Penn Mutual at www.pennmutual.com.
Contact
Hannah Miller
Gregory FCA
(610) 228-2287
Hannah@gregoryfca.com
Lauren Kane
Penn Mutual
(215) 956-8760
kane.lauren@pennmutual.com

2813819CC_Nov21