Press Releases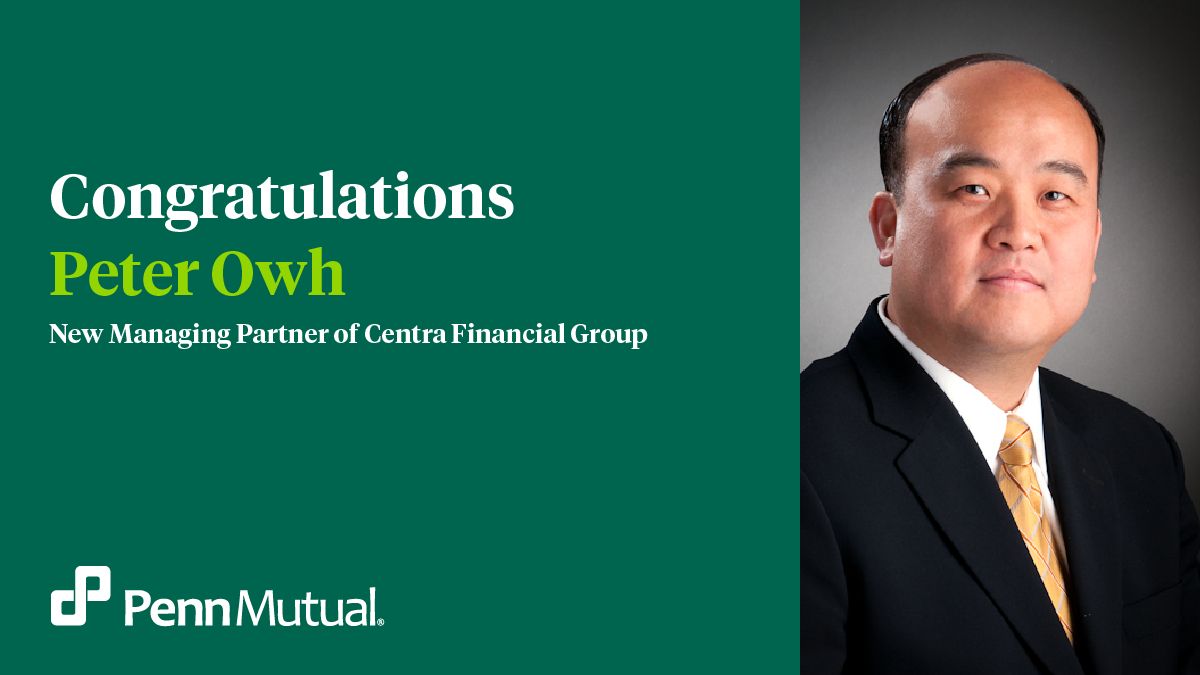 The Penn Mutual Life Insurance Company Promotes Peter Owh to Managing Partner of Centra Financial Group
Succession planning process helped industry veteran take on new role at the company's Rochester agency
HORSHAM, Pa. – December 10, 2019 – The Penn Mutual Life Insurance Company (Penn Mutual) is excited to announce the promotion of Peter Owh to managing partner of its Rochester agency, Centra Financial Group. Formerly the managing director, Owh will lead the firm through a seamless transition, focusing on providing a high-touch experience for clients and advisers as well as leveraging relationships for growth and expansion in the years ahead.
Centra's forthright and thoughtful leadership transition to Owh was a two-year process, designed to create a consistent and uninterrupted change of hands while the business continues to build its legacy.
A Retirement Income Certified Professional (RICP), Owh got his start in the financial services industry in 2000 and began his relationship with Penn Mutual through its Independence Financial Network (IFN). In 2012, Owh was recruited to Penn Mutual's Long Island agency as a sales manager and was subsequently introduced to Centra Financial Group's Jim Cerone, who was developing a succession plan for the business. Owh joined the firm as managing director in November 2017.
In his new role, Owh is responsible for recruiting, training and developing advisers for the organization, helping them elevate their practices and position the firm for growth.
"We're excited about the internal succession at Centra to create continuity for the firm. Peter has become wholly ingrained with the firm and is ready to take it to the next level," explains Tom Harris, executive vice president and chief distribution officer at Penn Mutual. "Centra has been an institution in upstate New York for decades and we're happy that the clients, advisers and staff can continue to grow through this change."
"When I came across Penn Mutual early in my career, the product line was the best kept secret in the industry, and is what initially intrigued me about the company," says Owh. "What felt unique was that everyone is moving in the same direction with mutually aligned goals from top to bottom, across the company and within the field agency system. I'm eager to step up and feel well positioned to successfully lead Centra in the right direction for growth ahead."
Originally from Toronto, Owh now lives in Webster, NY and serves as vice chair for the United Methodist Frontier Foundation.


About The Penn Mutual Life Insurance Company
Penn Mutual is committed to helping people live life with confidence. At the heart of this purpose is the belief that life insurance is central to a sound financial plan. Through our network of trusted advisers, we are dedicated to helping individuals, families and businesses achieve their dreams. Penn Mutual supports its advisers with retirement and investment services through its wholly owned subsidiary Hornor, Townsend & Kent, LLC, member FINRA/SIPC. Visit Penn Mutual at www.pennmutual.com.
Contact
Haley Rosa
Gregory FCA
(610) 228-2805
Haley@gregoryfca.com

Jeff Leinen
Penn Mutual
(215) 956-8530
Leinen.Jeff@pennmutual.com
2855882CC_Dec21