Press Releases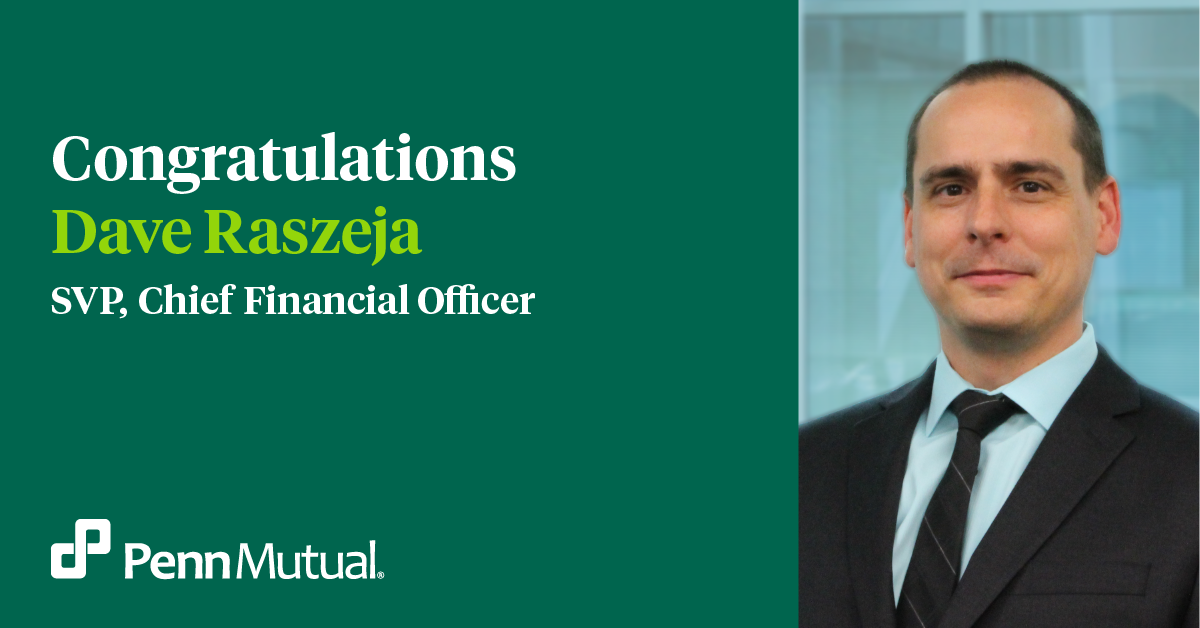 The Penn Mutual Life Insurance Company Promotes Dave Raszeja to Chief Financial Officer
Planned transition leads company veteran to succeed retiring Sue Deakins
HORSHAM, PA. – January 27, 2020 – The Penn Mutual Life Insurance Company (Penn Mutual), a Fortune 1000 company, has announced that Dave Raszeja, senior vice president, financial management and chief risk officer, has been promoted to senior vice president, chief financial officer, effective March 1. Appointed by Penn Mutual's Board of Trustees, Raszeja will move into the role and take over responsibilities from long-tenured CFO Sue Deakins, who announced her retirement early last year.
Raszeja joined Penn Mutual in July 2001 as an actuarial assistant. He has risen through the ranks and held various roles in the organization, ultimately garnering a multi-faceted understanding of Penn Mutual from varying vantage points. Most recently, as SVP, financial management and chief risk officer, he ensured proper governance of risk practices and communication of risk strategy while also leading aspects of financial reporting and corporate actuarial management.
As CFO, he will lead all areas of the financial management department, including financial reporting, accounting, financial controls, actuarial valuation, financial analysis, risk management, financial operations and procurement and benefits and payroll. Raszeja will continue the legacy and exemplary approach in supervising the company's historical commitment to policyholders, as well as overseeing Penn Mutual's enduring financial stability and strength.
"As an almost 20-year veteran at the company, Dave has a unique perspective into our obligation to our policyholders, our mission to move the company forward, and a diverse understanding of our organization and culture — all elements that will help him succeed in achieving our long-term business objectives," explains Eileen McDonnell, chairman and CEO of Penn Mutual. "He has led a distinguished career at Penn Mutual. His unwavering dedication and longevity within the company is paramount in our ability to seamlessly move forward under his leadership."
In addition to his tenure with Penn Mutual, Raszeja was also appointed as one of the first adjunct professors of Columbia University's Enterprise Risk Management master's degree program. In 2019, he completed Harvard Business School's Professional Leadership Development program.
A graduate of Rochester Institute of Technology, Raszeja received his master's degree from State University of New York at Buffalo. He and his wife, Jackie, reside in Huntingdon Valley. He is a fellow of the Society of Actuaries and a member of the American Academy of Actuaries.
About The Penn Mutual Life Insurance Company
Penn Mutual is committed to helping people live life with confidence. At the heart of this purpose is the belief that life insurance is central to a sound financial plan. Through our network of trusted advisers, we are dedicated to helping individuals, families and businesses achieve their dreams. Penn Mutual supports its advisers with retirement and investment services through its wholly owned subsidiary Hornor, Townsend & Kent, LLC, member FINRA/SIPC. Visit Penn Mutual at www.pennmutual.com.


Karyn Baldwin
Gregory FCA
(610) 228-2105
Karyn@gregoryfca.com

Jeff Leinen
Penn Mutual
(215) 956-8530
Leinen.Jeff@pennmutual.com
2918406TM_Jan22