Press Releases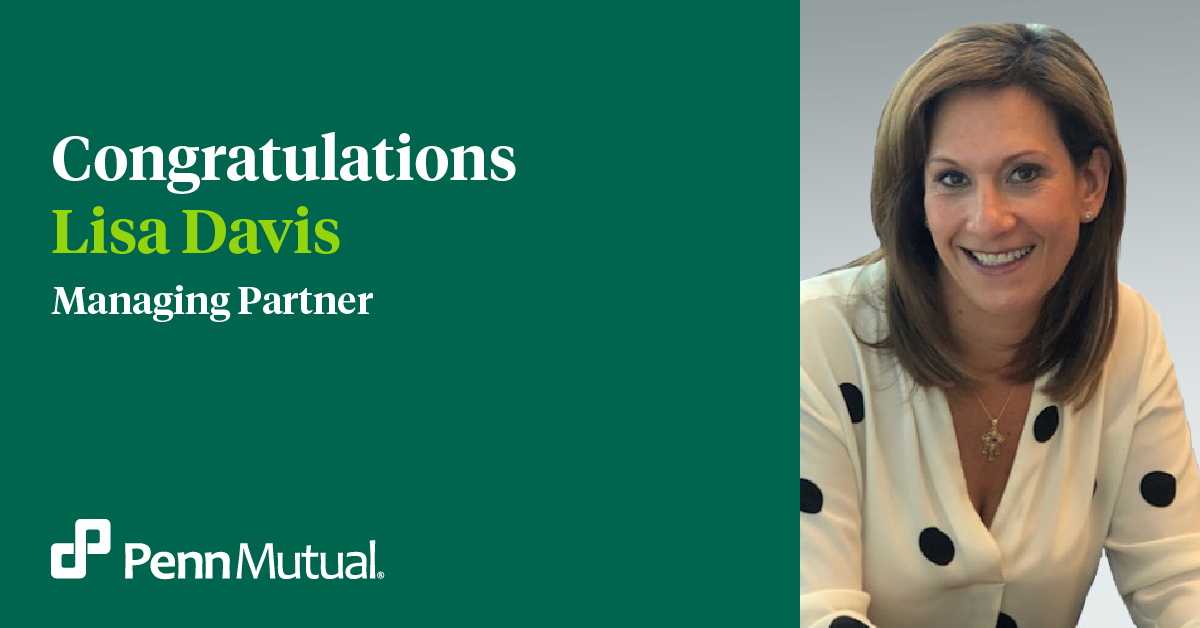 The Penn Mutual Life Insurance Company Promotes Lisa Davis to Managing Partner of 1847Financial
Philadelphia agency continues company's commitment to growing leadership from within
HORSHAM, Pa. – January 21, 2020 – The Penn Mutual Life Insurance Company (Penn Mutual), a Fortune 1000 company, is pleased to announce the promotion of Lisa Davis to managing partner of its Philadelphia agency, 1847Financial. In her new role, Davis will focus her efforts on developing the firm's advisers, leaders and overall team.
Davis joined 1847Financial in 2012 and was promoted to managing director in 2015. As an expert in strategic planning and business development, her prior role was focused on the firm's growth strategy where she supervised development initiatives for the more than 100 advisers at the firm. Her efforts have been integral in consistently positioning 1847Financial as Penn Mutual's top sales agency. Since day one with the company, Davis has played a vital part in facilitating the expansion of 1847Financial's footprint, with offices now in Delaware, New Jersey and Florida. In her new position, she will join current Managing Partner Jim Meehan to continue to support the growth and vision of the firm.
"Lisa is an asset to our organization and we are excited for her to take the helm with Jim and continue to promote 1847Financial's growth in her new role," said Julie Davis, vice president, sales at Penn Mutual. "1847Financial is always ready to help serve its clients and make a difference in our communities. Lisa has a proven track record in the Philadelphia area, and we know she is a great addition to the leadership team and direction of the firm."
"I am excited to welcome Lisa as my partner," said Jim Meehan. "Her dedication to the firm and support for our advisors has earned her the respect of all of us at 1847Financial. Her talents and leadership will be instrumental in continuing our growth and high level of service to our clients."
Lisa Davis attributes her background in the hospitality industry as one reason why she thrives in financial services. It's where she learned to always put the client experience first. "After taking time off from my career to raise my children, I started a new career in financial services. I'm thrilled to be progressing at a company — and in an industry — that values working parents. Over the last few years I've worked closely with Jim and look forward to our partnership and leading the firm together," said Davis. "We have a strategic vision and I look forward to supporting our team and clients to offer a best-in-class experience."
Davis is originally from Lower Merion, PA and now resides in Plymouth Meeting, PA with her husband and two daughters. She is a graduate of Cornell University and also holds a master's degree from The American College of Financial Services. In her spare time, Davis' biggest passions are the work she does for GAMA and her alma mater, The American College of Financial Services.
About The Penn Mutual Life Insurance Company
Penn Mutual is committed to helping people live life with confidence. At the heart of this purpose is the belief that life insurance is central to a sound financial plan. Through our network of trusted advisers, we are dedicated to helping individuals, families and businesses achieve their dreams. Penn Mutual supports its advisers with retirement and investment services through its wholly owned subsidiary Hornor, Townsend & Kent, LLC, member FINRA/SIPC. Visit Penn Mutual at www.pennmutual.com.

Melanie Yuill
Gregory FCA
215-488-1239
Melanie@gregoryfca.com

Jeff Leinen
Penn Mutual
(215) 956-8530
Leinen.Jeff@pennmutual.com
2911314TM_Jan22