Press Releases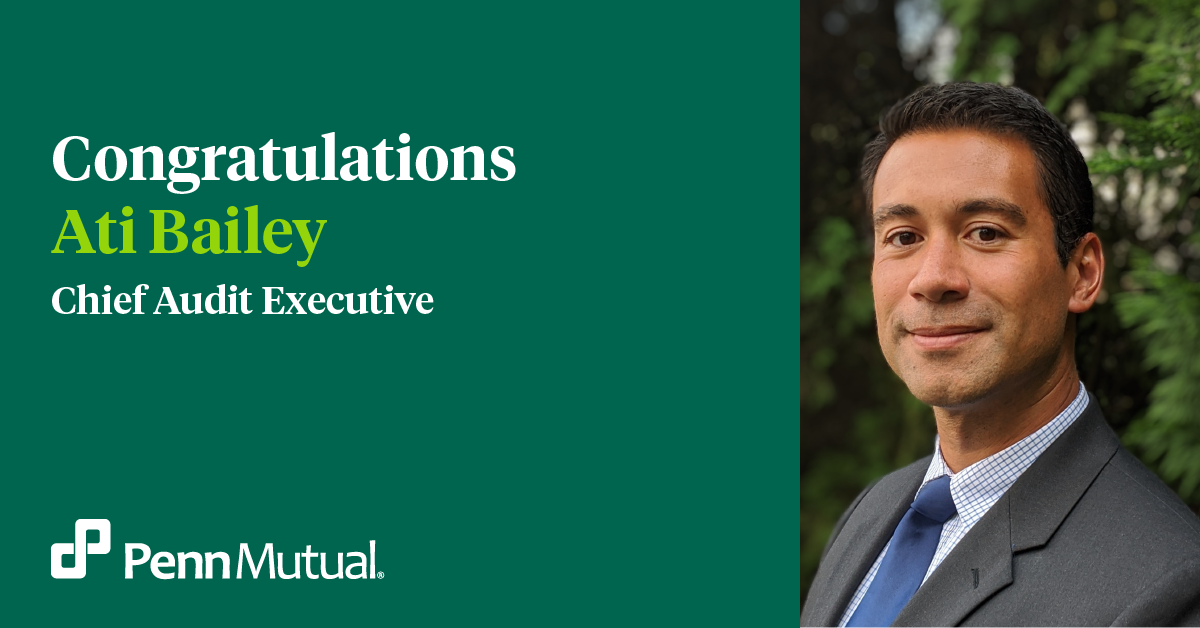 The Penn Mutual Life Insurance Company Promotes Atilua (Ati) Bailey to Chief Audit Executive
HORSHAM, Pa. – July 27, 2020 – This month Ati Bailey officially assumed a new role as Chief Audit Executive. He reports to Penn Mutual Chief Executive Officer Eileen McDonnell on administrative matters and to the chair of the audit committee of the board of trustees. Bailey joined the company in 2012 as an audit specialist and consistently expanded his scope and areas of responsibility over the last eight years.
"Ati's ability to anticipate issues and delve into systemic root causes, coupled with his practical approach to addressing challenges, has enriched our already strong enterprise risk management environment," says McDonnell. "Ati's leadership will help ensure our standards continue to support our core purpose of serving the long-term interests of our policyholders and contract owners."
Bailey is responsible for managing the internal audit department, a critically important enterprise function, which assists the audit committee of the board of trustees and the chief executive officer in fulfilling their oversight of the internal controls and operational risk management of Penn Mutual, its insurance-related subsidiaries and other subsidiaries and affiliates including the Penn Insurance and Annuity Company (PIA), the Penn Insurance and Annuity Company of New York (PIA NY), Vantis Life, Horner, Townsend & Kent LLC (HTK), broker-dealer Janney Montgomery Scott LLC and Penn Mutual Asset Management LLC (PMAM).
His previous experience includes consulting and auditing roles with several international companies. A member of The Institute of Internal Auditors (IIA) and Information Systems Audit and Control Association (ISACA), Bailey is a certified information systems auditor (CISA®). He received a Bachelor of Science degree in computer science and a Bachelor of Commerce and Administration degree in information systems and management from the Victoria University of Wellington in New Zealand.
About The Penn Mutual Life Insurance Company
Penn Mutual is committed to helping people live life with confidence. At the heart of this purpose is the belief that life insurance is central to a sound financial plan. Through our network of trusted financial professionals, we are dedicated to helping individuals, families and businesses achieve their dreams. Penn Mutual supports its financial professionals with retirement and investment services through its wholly owned subsidiary Hornor, Townsend & Kent, LLC, member FINRA/SIPC. Visit Penn Mutual at www.pennmutual.com.


Contact:
Jeff Leinen
Penn Mutual
(215) 956-8530
Leinen.Jeff@pennmutual.com