Press Releases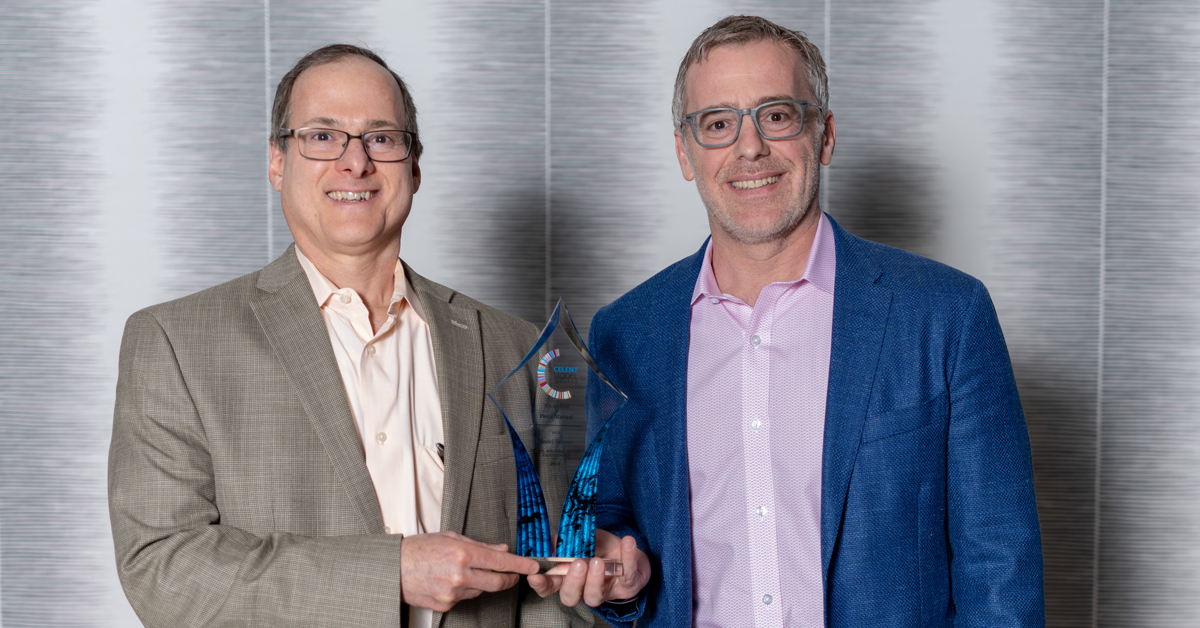 The Penn Mutual Life Insurance Company's Accelerated Client Experience Honored with 2019 Celent Model Insurer Award
Company Awarded for Innovative Technology That Can Shorten the Process of Purchasing Life Insurance by Weeks
Left to right: Mark Dash, VP of Solutions Delivery and Chief Technology Officer, and Greg Driscoll, SVP of Service Operations and Chief Information Officer.
HORSHAM, Pa. – April 12, 2019 – The Penn Mutual Life Insurance Company (Penn Mutual) announces their Accelerated Client Experience (ACE) technology is a winner of a Model Insurer Award given by Celent, a global financial services research and advisory firm. Penn Mutual is recognized in the "Digital and Omnichannel Technologies" category, specifically honoring ACE as an outstanding technology initiative.
Launched in 2017, ACE is a completely electronic, seamless end-to-end digital experience that streamlines the life insurance application processing and decision-making time from an industry average of 30 days or more to as little as 24 hours. It reduces the need for invasive medical testing and improves information gathering, thus reducing cost, minimizing overhead and accelerating the whole process of purchasing life insurance.
"ACE has completely modernized the purchasing process. We've changed the acquisition of life insurance," says Greg Driscoll, senior vice president, service operations and chief information officer at Penn Mutual. "How we go to market has transformed, and to leave an imprint throughout the industry the way that we have is truly a game-changer. With that in mind, we're already looking forward to the future of ACE. We are committed to continuously improving and enhancing the experience. We're honored to receive this recognition from Celent, as it's a nod to our innovative culture, and a testament to our dedication to create a difference for advisers and consumers."
Driscoll credits the launch and rollout of ACE to the team of about 40 Penn Mutual associates and broad support across the organization. "Talent wins the day, and this undertaking succeeds due to our talented associates, and their mindset to break the mold. We challenge our associates to think differently, work differently and engage each other differently. The team understood we were taking risks, but now, the ACE metrics speak for themselves. We have an industry-leading 60 percent of our cases coming in electronically, and we are placing 93 percent of our submitted ACE cases, which is a full 20 points above non-ACE cases."
As part of Celent's judging methodology, the tool must demonstrate business benefits, a degree of innovation relative to the industry, and technology or implementation excellence.
According to Nicolas Michellod, senior analyst at Celent, "The Model Insurer Awards recognize how insurers are using technology to change the face of insurance. These insurance carriers should serve as an inspiration to others looking for strong examples of best practice implementation that will have a truly meaningful impact on business results and the industry overall. The entry from Penn Mutual clearly demonstrated this."
Penn Mutual accepted its award at Celent's annual Innovation and Insight Day in New York City on Friday, April 12, 2019.
About The Penn Mutual Life Insurance Company
Penn Mutual is committed to helping people live life with confidence. At the heart of this purpose is the belief that life insurance is central to a sound financial plan. Through our network of trusted advisers, we are dedicated to helping individuals, families and businesses achieve their dreams. Visit Penn Mutual at www.pennmutual.com.
About the Celent Model Insurer Awards
Celent's annual Model Insurer Awards recognize the best practices of technology usage in different areas critical to success in insurance. Nominations are submitted by insurance carriers and undergo a rigorous evaluation process by Celent analysts. Celent judges submissions on three core criteria: demonstrable business benefits of live initiatives; the degree of innovation relative to the industry; and the technology or implementation excellence. More information at www.celent.com/awards.
Contact

Melanie Yuil
Gregory FCA
(215) 488-1239
melanie@gregoryfca.com
Lauren Kane
Penn Mutual
(215) 956-8760
kane.lauren@pennmutual.com