Press Releases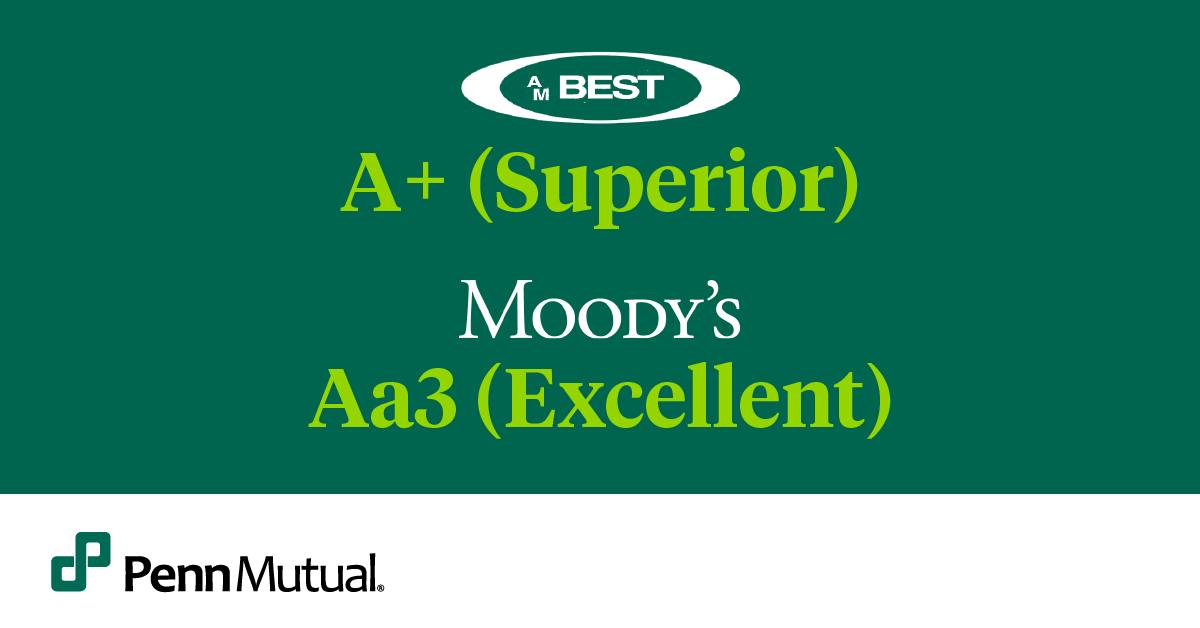 Nation's Top Insurance Ratings Agencies Reaffirm The Penn Mutual Life Insurance Company's Financial Strength
Moody's Investors Service and A.M. Best give the life insurance company and its subsidiaries top grades
Horsham, Pa. – May 12, 2020 – The Penn Mutual Life Insurance Company (Penn Mutual) is pleased to announce that Moody's Investors Service and A.M. Best are once again recognizing the strength of the Fortune 1000 life insurance company and its subsidiaries. During both agencies' annual reviews, Penn Mutual received superior marks for its capital strength, business profile, and governance and risk management practices.
Ratings agencies provide an independent view of the future ability of an insurance company to make good on its promises to provide protection. Moody's Investors Service reaffirmed Penn Mutual's Aa3 (Excellent) rating, which reflects the company's solid capitalization, liquidity and good asset quality, while A.M. Best reaffirmed Penn Mutual's A+ (Superior) Financial Strength Rating (FSR) and aa- Issuer Credit Rating (ICR). A.M Best notes that Penn Mutual's balance sheet strength is very strong, as well as its operating performance. The agency also remarks that Penn Mutual has experienced consistent growth in capital over the past few years, and has efficiently managed its investment portfolio.
Dave Raszeja, senior vice president and chief financial officer at Penn Mutual, explains that the reaffirmation is particularly noteworthy. "As a mutual company, we have always taken the long-term view in service to our policyholders' best interests and have a history of protecting what matters most. Our legacy of financial strength continues to be foundational to the company and our success," says Raszeja. "I'm proud to say that the ratings agencies recognize this and continue to give us a vote of confidence. At a time when the agencies have a negative outlook on the industry as a whole, Moody's and AM Best have affirmed our ratings in recognition of our solid capitalization, strong liquidity and good asset quality.
"Our organization has been diligent in working through this pandemic to maintain business continuity," continues Raszeja. "The dedication and flexibility of our home office and field office associates to provide uninterrupted service to our policyholders and financial professional have fueled our ability to perform at the highest levels. The validation of these ratings affirmations conveys those efforts."
Both Moody's Investors Service and A.M. Best's reviews serve as independent proof for financial professionals, prospective clients and current policyholders to reinforce the company's ability to make good on its promises to provide protection, give greater financial flexibility, and allow for a safe retirement.
About The Penn Mutual Life Insurance Company
Penn Mutual is committed to helping people live life with confidence. At the heart of this purpose is the belief that life insurance is central to a sound financial plan. Through our network of trusted advisers, we are dedicated to helping individuals, families and businesses achieve their dreams. Penn Mutual supports its advisers with retirement and investment services through its wholly owned subsidiary Hornor, Townsend & Kent, LLC, member FINRA/SIPC. Visit Penn Mutual at www.pennmutual.com.


Melanie Yuill
Gregory FCA
(215) 488-1239
melanie@gregoryfca.com

Jeff Leinen
Penn Mutual
(215) 956-8530
Leinen.Jeff@pennmutual.com
An insurer's financial strength rating represents an opinion by the issuing agency regarding the ability of an insurance company to meet its financial obligations to its policyholders and contract holders and not a statement of fact or recommendation to purchase, sell or hold any security, policy or contract. These ratings do not imply approval of our products and do not reflect any indication of their performance. For more information about a particular rating or rating agency, please visit the website of the relevant agency.
3062623CC_MAY22