Press Releases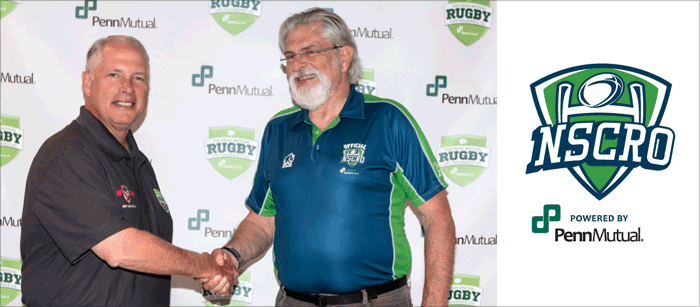 The Penn Mutual Life Insurance Company Extends Sponsorship with the National Small College Rugby Organization
HORSHAM, Pa. – June 8, 2017 –The Penn Mutual Life Insurance Company (Penn Mutual) is pleased to announce a two year extension of their sponsorship with the National Small College Rugby Organization (NSCRO).
For the last three years, Penn Mutual has closely aligned their business initiatives toward sponsorships and networking partnerships affiliated with rugby, especially at the collegiate level as they have a strong commitment to support the growth of the sport. NSCRO works with the small college rugby community in enhancing the development of both men and women rugby players. By extending the sponsorship, Penn Mutual and NSCRO will continue to work together to foster excellence in individuals both on and off the field.
"The extension of this sponsorship deepens our connection with the loyal rugby community," says Eileen McDonnell, chairman and CEO of Penn Mutual. "When we initially partnered with NSCRO in 2015, we very quickly were able to understand and appreciate their dedication and desire to move this sport, and its players, forward. We are excited to continue to work together and empower these athletes as the sport grows across the US."
NSCRO was founded in 2007 with the goal of providing small colleges playoff opportunities outside their local leagues. Through the help of its partnerships, NSCRO has since evolved into an organization that offers five national playoffs as well as services to nearly 400 men's and women's colleges across the US. As a top sponsor, Penn Mutual has been instrumental in the growth of NSCRO, guiding the non-profit organization to better the overall collegiate rugby experience.
"NSCRO and Penn Mutual hold the same values grounded in the desire to develop quality players that represent excellence as individuals as well," says Steve Cohen, president of NSCRO. "We are thrilled to continue our sponsorship with Penn Mutual and by doing so we are able to come together to support the next generation of American leaders."
About The Penn Mutual Life Insurance Company
Since 1847, Penn Mutual has been driven by our purpose to create a world of possibilities. At the heart of this purpose is the belief that purchasing life insurance is the most protective, responsible and rewarding action a person can take, and is central to a sound financial plan. The company is committed to helping families unlock life's possibilities through life insurance and annuity solutions. This is accomplished through a national network of financial professionals, who help clients make great things possible. Penn Mutual supports its field representatives with brokerage services through Hornor, Townsend & Kent, Inc., Registered Investment Advisor and wholly owned subsidiary. Member FINRA/SIPC. Visit Penn Mutual on the Internet at http://www.pennmutual.com/.
About NSCRO
Since 2007, the National Small College Rugby Organization (NSCRO) has been at the forefront of fostering and developing small college rugby programs in the United States. NSCRO is comprised of more than 240 men's and 135 women's colleges and universities who participate in more than 30 leagues for an opportunity compete on a national level and showcase their abilities to a broader and larger audience.
By focusing on small colleges and universities, we help bring these schools, their teams and players exposure outside of their conference/union while also giving them a chance at a national title and ranking. NSCRO offers many services and programs focused on both on and off field recognition of team and individual success and contributions to their school and community. NSCRO provides a responsive national organization dedicated to small colleges and universities which has helped legitimize rugby in the eyes of school administrators. The increased visibility and recognition from NSCRO has led to better school support, greater on-campus interest in rugby and more alumni involvement.
Contact
Kat Weber
Gregory FCA
(215) 297-3607
Keith Bratz
Penn Mutual
(215) 956-7907
1810873PH_Jun19