Press Releases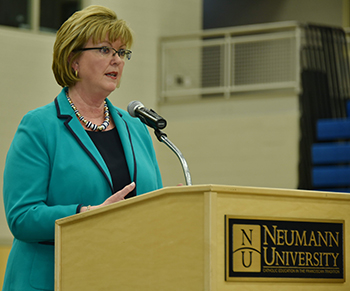 The Penn Mutual Life Insurance Company Honored by Neumann University for Continued Support of Rugby and the Values Instilled through Sports
HORSHAM, Pa. – April 13, 2018 –The Penn Mutual Life Insurance Company (Penn Mutual) is pleased to announce that the company was recognized by Neumann University with the 2017-2018 Institute for Sport, Spirituality and Character Development Award. Eileen McDonnell, CEO and chairman of Penn Mutual, accepted the award on the company's behalf at the 7th annual event, held in the college's Mirenda Center in April.
Marked as the Institute's highest honor, the award recognizes individuals and organizations that celebrate sports and exemplify fundamental values such as integrity, service and excellence. Penn Mutual was spotlighted for their work and effort in the rugby community, given their multi-year title sponsorship of the Penn Mutual Collegiate Rugby Championship (CRC), and their overall involvement to empower and propel the sport forward among college students.
Since 2014, Penn Mutual has built awareness of the rising sport through various initiatives including strategic partnerships with athletes, the development of an award-winning documentary focused on rugby players at the Olympics, and the recognition of one athlete annually through its prestigious Life of Significance Award. This award is Penn Mutual's keystone recognition program at the CRC, honoring a rugby player that exudes likeminded values of respect, commitment and integrity, and has made substantial contributions not only on the rugby pitch, but in their local community as well.
In her acceptance speech, McDonnell highlighted the shared philosophies between Penn Mutual and Neumann's Institute. "This is an award that recognizes the goodness that exists in sports, but also the core values of Neumann University, reverence, integrity, service, excellence and stewardship. I am very conscious of the values that lie behind this, values that strongly resonate not only with me, but within the corporate culture and traditions I am privileged to lead at Penn Mutual," she said.
Lee DelleMonache, director of Neumann's Institute, said, "The people of Penn Mutual and the values-based culture of the organization serve as a premier model of corporate responsibility and shared leadership. The community outreach extended by them is authentic, inspirational and stretches far beyond their commitment to rugby."
Past winners of the Institute Award include radio broadcaster Ron Meyer, former Notre Dame swimmer and author Haley Scott DeMaria, former Philadelphia Flyer captain Keith Primeau, the Ed Snider Youth Hockey Foundation, and Coaches vs Cancer of Philadelphia.
About The Penn Mutual Life Insurance Company
Since 1847, Penn Mutual has been committed to helping people live life with confidence. At the heart of this purpose is the belief that life insurance is central to a sound financial plan. Through our network of trusted advisers, we are dedicated to helping individuals, families and businesses achieve their dreams. Penn Mutual supports its advisers with retirement and investment services through Hornor, Townsend & Kent, Inc. Registered Investment Advisor and wholly owned subsidiary. Member FINRA/SIPC. We are proud to work together in a values-driven and relationship-based culture. Visit Penn Mutual at www.pennmutual.com.
Contact
Karyn Piechule
Gregory FCA
610-228-2107
Ann Callaghan
Penn Mutual
(610) 228-2140
2087951RM-Apr20